I'll always have my eye on you Stephanie. You can count on that. - Dr. King.
This week's installment of No Ordinary Family introduced a love interest for both George and Daphne, while also showcasing the Powells not holding back on their powers. Unfortunately, such open usage left the whole family under the watchful eye of Dr. King and his superhuman associate.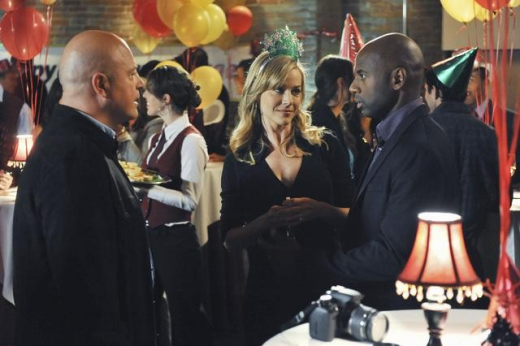 [Photo: ABC]

So Stephanie runs to Mexico to talk to Dr. Fulton's wife on "No Ordinary Mobster," but little does she know, she was being fed a script by King himself. At first, I was excited to get new information on these abilities and became worried about the Powells.

That was, until we found that Dr. King is paying off the wife to fake her illness and lie. Was anything she said the truth? Are the powers only temporary and will the Powells pay for having them later? I hope not, this family didn't ask for anything.

Who knew George was such a bad-ass lawyer?! He flipped the script on an extortionist and it's too bad his deal was short-lived, as the extortionist died just a short while later. Amanda lived, though, and I'm looking forward to seeing their relationship grow.

I loved the banter and cute help between Daphne and JJ. As Kay Panabaker discussed in our interview with her, these kids are actually tight, unlike a lot of family shows that paint the children with sibling rivalry.

I am a definite fan of No Ordinary Family, although I'm still searching for forward momentum. The stories each week are interesting, but where is it all going? I'm intrigued to find out what happens to the family and what Dr. King will do next.

I'm also glad Autumn Reeser will be playing a bigger role in the grander picture, but a side thought for readers: How is Mr. Superhuman going to talk and act like JJ's 'made-up male version of Katie' Will P. Jerome? The guy was a genius while online chatting with Katie. Let's see how they deal with it going forward.



Tags: No Ordinary Family, Reviews
Want more No Ordinary Family?
Sign up for our daily newsletter and receive the latest tv news delivered to your inbox for free!
More From TV Fanatic
On Tyrant, Bassam attempts to find a peaceful resolution instead of a revolution. Will he succeed?
On tonight's Covert Affairs, Annie and Auggie switch jobs and head to Paris. Will Auggie succeed in the field with Annie as his handler?
A leg went flying on The Real Housewives of New York City this week. You must read this review.
On Perception, Daniel and Kate try to track down a missing baby. Kate also must deal with Donnie's talks about their own future children.
---