The Defenders Review: "Nevada v. Riley"
by Sean McKenna at .
For awhile now, the media has been buzzing over the NFL's safety issues. Head trauma, resulting in multiple concussions, from guys who weigh over 200 pounds charging at you with the strength and speed of a vehicle is certainly a serious and fascinating topic.
On "Nevada v. Riley," this concern was placed at the center of The Defenders, illustrating the repercussions of years of using your head for sport.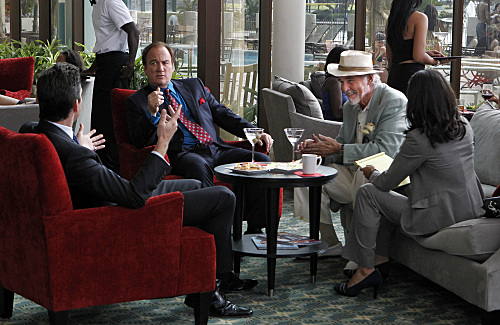 The defendant, Brett Riley, was certainly portrayed as sympathetic with his loving care for his family. Throw in a little degraded ego and battle with alcoholism, and you've got a well-rounded character.

Unfortunately, Brett came across as a flat football stereotype.

In fact, when ADA Ward convincingly relayed his arguments to the jury, I have to admit that even I was feeling swayed. Brett's case was probably an extreme one, considering plenty of football players leave the field and never commit any violent acts.

However, it did happen here. Bret deserved treatment rather than prison. Seriously, did you ever have doubt that Nick and Pete would win?

I do enjoy watching football, but it does make me think about what those powerhouse assaults actually do. Good thing I'm a writer and not a player.

As for the B storyline, veteran actor James Brolin arrived as Pete's father, Teddy Kaczmarek. A great casting choice, but I was disappointed that his screen time was far less than promoted.

Teddy definitely reminded me of Charlie Harper from Two and a Half Men, due to his constant women and bowling shirts. If anything, we now know where Pete gets his charisma and charm. Sure, Pete and Teddy had their issues, but the bottom line was that family is important.

I was expecting a little more from this episode, but it wasn't awful. Hopefullym Brolin returns and viewers can get a chance to see some more family interactions. That banter is always a highlight.

Sean McKenna is a TV Fanatic Staff Writer. Follow him on Twitter.

Tags: The Defenders, Reviews
From Around the Web