From one character faking PTSD to another actually coming down with a form of the disorder, 90210 returned this week with "Liars."
Did the episode cure our staff of its desire to see Annie and Liam get together? How do we feel about the presence of Emily? We tackle this topics and more in the latest edition of the 90210 Round Table...
What was your favorite scene from the episode?
Matt R: Gotta be when Emily first turned the corner. I'll talk about it more below, but I spit out my Fruit Punch Gatorade. I seriously thought it was Jennie Garth's doppleganger.
Steve M: I loved when AnnaLynne McCord broke the cell phone and really got down to beating on Mr. Cannon. It was one of the funniest, worst acted scenes in the history of television.
Eric H: Watching Adrianna burst into tears on the set of that talk show. She totally gets whatever is coming to her!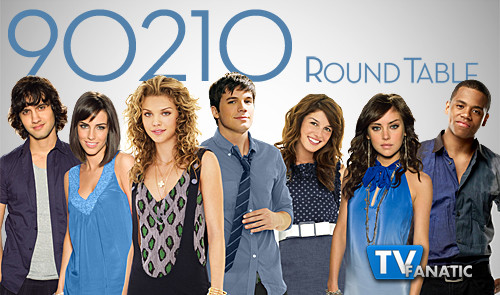 Are you sick of all this Lannie teasing?
Matt R: God, yes. Can they be together for more than 10 minutes before the show splits them apart again? It's fine for Liam to want to be close to his brother, but maybe he should start by being honest himself about what transpired with Annie.

Steve M: No way. The back and forth is what makes the pairing so intriguing. Will they ever find happiness? High school couples really do go through these kinds of constant obstacles, so it feels realistic to watch.

Eric H: Is Shenae Grimes involved? Yes. Then I'm sick of it.

Is Navid being understanding or selfish?Matt R

: SELFISH. There's simply no other answer, people. He's cheating on his girlfriend with one of her best friends. There's no grey area here. He's simply being a jerk.

Steve M: Can I just say "confused?" Navid hasn't exactly been a stud or a player for all of his life. Now, he has tow beautiful girls that want and need him. He wants to do the right thing, but you try breaking up with a blubbering mess. It's difficult.

Eric H: He's just being da man!!! Adrianna during the day, Silver at night. Way to go, 'Vid! Keep up the smooth work.

What are your impressions of Emily?
Matt R: She's positively insane, which makes her awesome for the show. I've often said 90210 suffers from every conflict being based on the latest relationship misunderstanding. This is different and fresh.

Steve M: I'm sorry, I don't do impressions. I'm a TV critic.

Eric H: She's the most confusing character on TV. She'll end up going after Annie's whole life. Who would want that?!?

Tags: 90210, Round Tables