I know Off The Map is from the producers of Grey's Anatomy, but it reminds me more of ER - set in the jungle, of course. An intriguing concept, to be sure.
Let's go over "Saved by the Great White Hope" now:
Three young doctors take jobs at La Clinica Cruz del Sur, somewhere in South America. They are all looking to start over.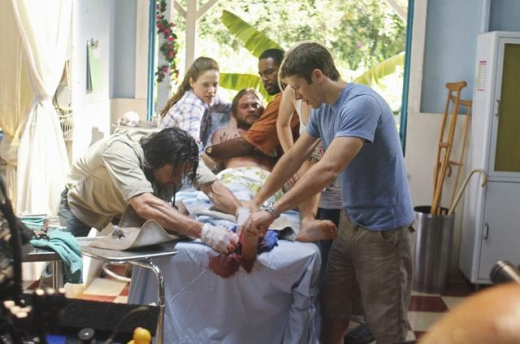 Although we are never given an exact location, just a continent, we do learn that this jungle has both tourists and locals. The show takes full advantage of the stunning views. Cliffs overlook the ocean and the lush tropical rain forest competes with a gorgeous young cast. If you'd like some eye candy to go along with your medicine, you'll find it here.
Dr. Lily Brennan, played by Caroline Dhavernas, is the standout of this group. Her youthful innocence, coupled with professional competence and stunning smile, remind me of a young Julianna Margulies.
Just when you thought the Girl Scout with a trauma pack might need Dr. Ben to come to her rescue, she unexpectedly takes charge. Suddenly, we see her as an ER doctor, as she talks her patient through the trauma of having his arm cut out of a zip line contraption while they both dangle a hundred feet in the air.
By the way, did this scene make anyone else rethink zip lines? I've always wanted to try one, but now? Not so much.
I found Dr. Mina Minard (Mamie Gummer) the most interesting of the three newbies. She seems the most ambitious and the least comfortable in her own skin. Her lack of bedside manner should make the language barrier with her patients all the more difficult and fun to watch. Also, her exhausted pessimism is a nice contrast to Lily's upbeat outlook.
The last of our threesome, Dr. Tommy Fuller (Zach Gilford), is the party boy plastic surgeon. Did he really come all the way to a South American clinic for the surfing and the bikinis?
It seems he could have found safer, easier options for that. Maybe there is more to the story. So far, whereas Lily lost her fiancé and Mina lost a young patient, Tommy is simply still searching to find himself. He's let down everyone in his life. Maybe he'll find something worth holding on to here.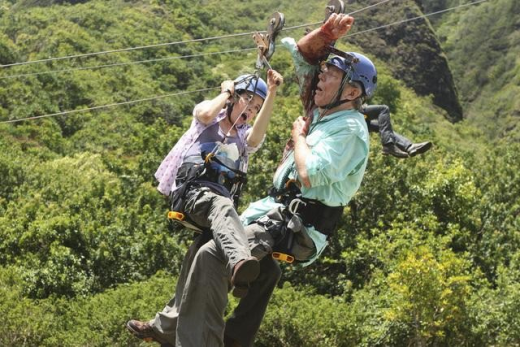 [Photos: ABC]

The pilot episode barely touches the surface of the clinic's regular staff. Dr. Ben Keeton is the clinic's founder, who may end up being the biggest bad boy of the bunch. I found the coconut scene sort of silly, although it was fun to see Ben shimmy up the palm tree. The starstruck way Lily looks at him must mean she's the first of our young doctors headed towards misery.

Elsewhere, Dr. Zee Alvarez and Dr. Otis Cole's torrid affair seems destined for heartbreak. Mark my words.

My favorite part of the episode was the firefly lake at the end. Do I think a chopper pilot and a doctor would be easily persuaded to take a pit stop at a lake on the way to delivering a patient to a hospital? Probably not. Nevertheless, I enjoyed the beauty and the romance of the ashes causing the lake to light up, as though it were filled with thousands of fireflies.

Off The Map looks like it is ready to deliver the romance and drama that fans expect while ditching the one thing I've never liked about medical shows: the drab hospital. I'm prepared to see where this exotic adventure takes us.

Check out a few Off the Map quotes from the premiere and sound off: What did you think?

C. Orlando is a TV Fanatic Staff Writer. Follow her on Twitter.

Tags: Off the Map, Reviews