When the first set of episodes of season four were ordered, "Chuck Versus the Push Mix" was created to be the season and maybe series finale.  After NBC picked up Chuck for a full 24 episodes, this week's installment became just the 13th one of the season.
Creator Josh Schwartz Tweeted fans that this was "the episode you've been waiting for."  He said "the last 5 mins of episode 13 are the best 5 mins CHUCK has ever done." Needless to say, my expectations were extremely high. However, because of all the hype, I was a little disappointed.
If this had actually played out as the series finale, I would have been much happier with it.  Everything wrapped up nicely and all of our favorite characters finished the hour healthy and happy.   
Between Mama B being there for the birth of Baby Awesome, the emotionally stable new family of Casey, Alex and Morgan, and Chuck's quiet and successful proposal to Sarah, it should have been making me cry like a baby.  Regretfully, I wasn't nearly as Schwartz assumed I would be.  Here are a couple reasons why:
Although this hypothetical 13 episode season brought positives – like the lack of filler eps – it also did rush things a bit.  One of the main storylines of this stretch was saving Mama Bartowski from the clutches of the evil Volkoff, but I never got into it.  We only just met Mary 12 episodes ago, and I haven't had the chance to get to know her well enough to care about her well-being.
Then again, maybe the problem wasn't the fact that things went too quickly, but rather that I did not enjoy the character, or the way Linda Hamilton was playing her.  Hamilton sure has been a stoic figure since joining the show in this fourth season's premiere, but not once has she made me feel bad for the fact that Mary's been away from her family for all of these years. 
And I know that it's possible to be a hardcore spy with a hard exterior and still open up to your fellow characters and the audience.  Case and point: John Casey and Sarah Walker.
So when Mama B was the one chosen to join Ellie and Awesome in the delivery room for the birth of baby Claire, I didn't think "awww."  I kind of thought, "why does this lady deserve to even be around for this?"
Also not living up to the hype was the final moments with Chuck and Sarah.  While the audio of the floor buffer leading to pure silence at the end of the episode was truly fantastic, the video it was overlaying didn't do much in terms of heart.  Sure, it was nice to see Chuck finally propose to the woman he loves, but that isn't as big of a deal as some other milestones in this relationship.  When they first got together and we saw them smiling and in love; that was breathtaking.  Even when we first realized Sarah liked Chuck in that way; that was fantastic. 
These two adults moving their serious relationship into engagement?  Not so much.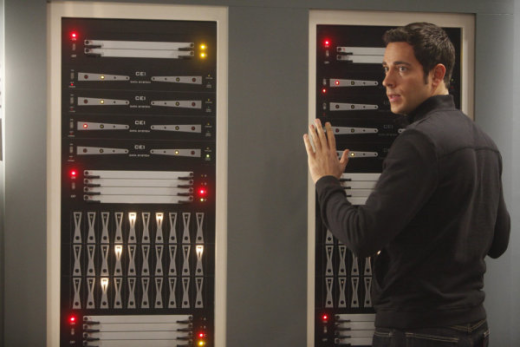 What did work extremely well at the end was the love that was going on between Casey, his daughter, and his daughter's boyfriend.  Since Alex first came on the scene, everything between her and Casey has been played beautifully by everyone involved.  The more time Casey has spent with her, the more in touch with his feelings he has become, and that growth has been fantastic to watch.  For Morgan to now be there every step of the way just makes it that much more glorious.

Of course, "Chuck Versus the Push Mix" wasn't all about the final act, so let's take a look at what else worked or didn't work from the episode.

Chuck's master plan to take down Volkoff was just great to watch.  From the early moments of him and Morgan plotting it out on the cork board with office supplies, to not thinking things were going his way in the middle of it, to him quietly waiting for the evil do-er in the dark cabin of his father... Chuck was certainly on his game. 

How much has this dude grown as a human being in four seasons?  In every facet of his life he has become a stud, and capturing Volkoff and the Hydra certainly make him worthy of some admiration. Oh, and a chopper!

I wasn't surprised, but a bit disappointed, that Volkoff hadn't suspected any wrong doing by Frost this entire time.  I wanted to respect this guy as an evil mastermind.  Instead, I will respect him as an aloof evil boss with a sensitive side and a love for ice cream.  Seriously, stealth weapons and an ice cream parlor?  What else could you ask for on a huge ship like the Contessa?  When the camera cut to him with his henchmen and he was chowing down on a double scoop of chocolate and vanilla, I absolutely lost it.

What didn't work was my favorite fictional band of all time. This was the first time that I was truly unimpressed by a Jeffster! performance.  Not only did I not enjoy the song choice (obvious and bad), but they didn't show nearly enough drama. Although it did get them kicked out of the hospital, I didn't feel it was the true essence of Jeffster!

So, as the show moves forward to what we can only imagine will be a new chapter of Chuck, you have to wonder what is in store for our favorite Burbank natives.  What kind of bad guy will be around the corner for the CIA?  And what emotional problems will it cause for Chuck and the gang?  What are you most looking forward to seeing next on Chuck?

Dan Forcella is a TV Fanatic Staff Writer. Follow him on Twitter.

Tags: Chuck, Reviews