Cougar Town Review: "Cry to Me"
at . Comments
Valentine's Day, one of my favorite holidays, brought with it all sorts of laughs on "Cry to Me."
All Jules wanted for Christmas Valentine's Day was to have Grayson open up about his father passing away. Am I the only one finding Jules more and more annoying these days?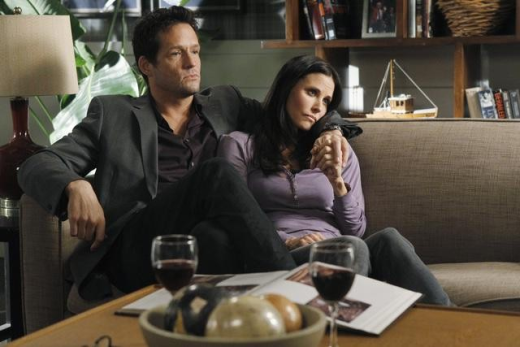 Don't get me wrong. I loved the episode and the rest of the crew (sans Trav) really are pretty freaking hilarious. But on tonight's episode, Jules really bothered me.

Why pick and pick at the man you love? It was pretty clear how hard it was for Grayson to say, "I love you," let alone open up about his father passing on the anniversary of his death. If Jules really thought of anyone but herself, she would have realized how hard this was for Grayson.

Instead, Grayson came around and proved once again how much he loves Jules. Maybe he couldn't gush about losing his father, but he was able to cry in front of her. Wow! It amazes me how much he's changed in the last year.

Ellie was hilarious as always. She never has qualms about saying out loud exactly what she (and everyone else) is thinking. Really, people! There should be NO reason to have your Christmas decorations up seven weeks after Jesus' birthday. We all know we could take a peek at our own neighbors and see something still lingering around. It's like a pandemic, I tell ya!

And yet, as mean and crazy as Ellie can be to Andy, he always knows how to bring her back to reality. I love how much these two really do care for each other. Nothing says I love you like stealing all the neighborhoods leftover Christmas decorations and setting them on fire. You're in the noms for Husband of the Year, Andy.

I understand that Trav has to somehow get in on the storylines, but that doesn't mean I am a huge fan of the winning, annoying post-teen pre-man. Having Bobby and Laurie take creepy pictures of you, Travis, doesn't make you funny. Only creepy. The only way Trav will really interest me these days is if he and Laurie get it on.

At first, I didn't get the title: (See You Soon) Cougar Town (Stay In Touch @Vdoozer, @Kbeigel or @CougarTownRoom), but then I realized it pertained to the series premiere of Mr. Sunshine. Way to get me, writers, way to go.

Tags: Cougar Town, Reviews