Cougar Town Episode Guide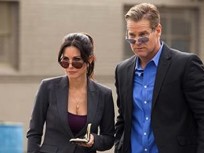 Jules and Bobby step into their old crime-solving personas on Cougar Town this week. They mut determine who stole Bobby's boat.
When Andy starts doing stand-up comedy at the Coffee Bucks open mic night, Travis begins to wish he never started the event on Cougar Town.
Jules hatches a get rich quick scheme with Andy while Grayson tries to act cool around Travis' friends on Cougar Town.
Jules tries to prove that she and Grayson are the ideal couple after a brunch with Travis and Laurie on Cougar Town.
When Travis graduates from college with an art degree, Jules worries about his future on Cougar Town.
Andy bets Ellie she can't stop her snarkiness for even one day during the annual yard sale on Cougar Town.
Jules wants her father to get the cul de saq crew in shape to run in the Mayor's 5K charity event on Cougar Town.
Gulf Haven turns into a pirate's cove for Buccaneer week and Andy tries to get Ellie to bring out her alter ego for the event on Cougar Town.
Jules has a hard time saying no and a project of Tom's is revealed.
Matthew Perry guest stars on this episode of Cougar Town. He plays a handsome stranger who asks Jules out.