CSI Review: A Welcome Cameo
at .
It's funny, I was just thinking it was about time for some answers to be revealed on CSI, while also lamenting the lack of continuous quality since William Peterson left the show.
Presto, I was graced with an overdue guest appearance by the actor himself on "The Two Mrs. Grissoms," one granted some much needed insight into his relationship with Sarah.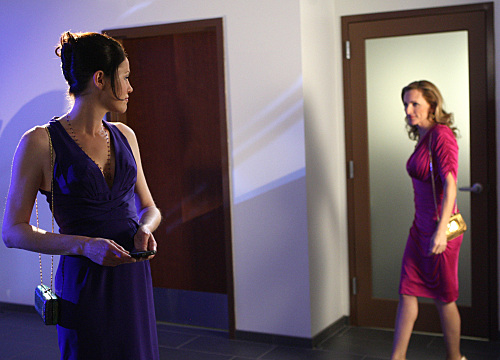 I generally have mixed feelings about episodes that are more focused on the character relationships in the show than an actual crime, but I think the audience was overdue for some sort of explanation about Sarah and Grissom's long-distance marriage. While not everything was revealed about their relationship, there was at least some genuine insight granted, and we also got to meet Grissom's mom.

Sarah has certainly grown over the years. It's apparent she still feels awkward around those that are deaf, but she's started to adjust since some of the character's very first episodes. Having to deal with her mother-in-law wasn't easy, but I was happy that she at least had the nerve to tell Mrs. Grissom off.

Apologies were made in the end, but I don't blame Sarah for feeling defensive. It's not easy to have to constantly explain what can appear as a complicated relationship.

Hodges' foot-in-mouth disease was humorous and had me chuckling, as he tripped all over himself reasoning out the women Grissom seemed attracted to. The looks on Sarah and Catherine's faces as he dug himself deeper into trouble were priceless. It was kind of Catherine to eventually give him away out of it.

The crime-solving took a back seat to the character reveals, but still remained interesting and even shocking. I honestly didn't see the explosion in Julia Holden's (Marlee Matlin) office coming. It was a surprise and certainly held my attention on the mystery, keeping the story well-rounded.

It was good too see Grissom again, even just briefly. I'm hoping his promise to return to Las Vegas soon was an indicator that he'll make another cameo this season, with an even bigger role to play.

As a viewer, I want Sarah and Grissom to be together, and I mean really together. It's sad to see Sarah struggle all alone. Unfortunately, the speculative options for the couple's future seem to be few. The happiest would be Grissom's return to the show. The middle ground would be Sarah leaving, but knowing she and Grissom were together. The saddest option would, of course, be a split.

There's no clear answer yet, but a solution should be made because the believability of the characters' love for each other will be hard to uphold if the audience cannot see it.

Next week, Katee Sachoff returns Detective Frankie Reed. Let's hope for another solid installment, shall we?

Tags: CSI, Reviews
From Around the Web