Welcome back to the weekly TVF Gossip Girl Round Table, where our panel breaks down the previous night's episode (see our review from earlier this morning).
Below, lead Gossip Girl writer Mister Meester joins esteemed editor-in-chief DANdy and TV Fanatic CEO Gossip Guy to discuss "While You Weren't Sleeping" ...
~~~~~~~~~~~~~~~~~~~~~~~~~~~
1. What was your favorite Gossip Girl quote from last night?

Gossip Guy: While I did appreciate all of Gossip Girl's cheesy Rolling Stones references, something about watching Blair stumble to apologize to Dan got me smiling.
Mister Meester: Anything out of sleep-deprived Blair's mouth was classic, but my absolute favorite was Dorota chastising the minion with "She has no time to care."
DANdy: Not sure if it was meant as a laugh line, but I guffawed over Lily's simple statement to Eric: "I'm relieved you're not going to overdose."
2. How much do you love Dair?

Gossip Guy: They may not have the raw sexual chemistry of Chair or the ridiculous good looks of Serenate, but could you find a more fun couple to watch banter on the screen? These two characters are usually always given the best lines and watching them interact with each other is pure pleasure each week and probably the best part about this show these days.
Mister Meester: Pretty hard.
DANdy: I love Dan and Blair, but let's be clear: no spit has been swapped, making any proclamations of "Dair" premature. I move to strike the nickname from record until the time it has been properly earned.
3. Harder to believe: Damien thinking he can actually blackmail Lily with the affidavit, or Thorpe partnering with a random dealer who just waltzes into his office?
Gossip Guy: Ooh I love Harder To Believe: Drug Dealer Edition! Definitely giving it to the respectable business tycoon partnering with some kid who wanders into his office in the middle of the night. Look, I've seen The Chicago Code and know Chicago business and corruption go hand-in-hand, but isn't this a little small time and trivial for Thorpe?
Mister Meester: The blackmail. No way he could prove that based on what is, legally, just hearsay and with the accused party raising doubts about the reputation of a known drug dealer. You'd think he would realize this and just drop it.
DANdy: The potential partnership. I haven't seen a pairing this random since Justin Bieber appeared on CSI.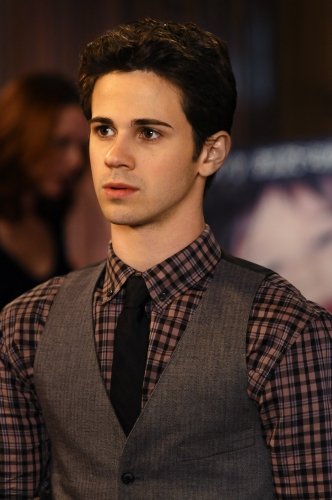 BIRTHDAY BOY: Eric played a big, albeit confusing role this week.


4. Should Nate and Raina date?


Gossip Guy: God this show is so incestuous, but given the limited dating pool? Sure. Nate was battling Rufus for the Uselessness Scale in recent weeks so at least there'll be some excuse to show him on screen, even if it is just playing Wii with Chuck's leftovers.

Mister Meester: If it means the return of stoner Nate playing Wii all day, I'm all for it.

DANdy: Yes. She may blackmail him with the "Tik Tok" intel she possesses otherwise.

5: Given that Rufus actually had a (small) role and V actually showed up, rate last night's episode from 1-10 on the Vanessa Uselessness Scale!


Gossip Guy: OMG. As much as I want her to go away, I was so glad to see V's bright green clueless eyes appear on screen because I knew I'd have something to rant about this morning! We're obviously going with a 50. Now let's discuss why! Lame apology to Dan and NOT Serena? 10. Wandering into the party of the little brother of the person she nearly killed? 10. Not even reaching Serena in time and pulling off her one purpose this episode? 10. Being Vanessa? 20.

Mister Meester: Umm, 6. She earns some respect for wearing normal clothes, and for a good line or two, but had she not returned I wouldn't have noticed.

DANdy: 2.5. The "ether flashbacks" line made her appearance worthwhile.

6: Write a birthday message to Eric.


Gossip Guy: Happy Birthday little buddy. I hope you get what you deserve this year: a true friend, revenge on Damien, and some better story lines. xoxo, Gossip Guy.

Mister Meester: Eric, I hope this message finds you well and your 18th birthday was everything you wished for and more. See you soon. Sincerely, Ostroff Center.

DANdy: Dear E: I often mistake you for Jeremy on The Vampire Diaries. Sorry about that. Happy birthday!

What do you think? Sound off in the comments!

Steve Marsi is the Managing Editor of TV Fanatic. Follow him on Google+ or email him here.

Tags: Gossip Girl, Round Tables