Hank was found guilty and contemplated a life on the run, but as "The Last Supper" got underway this week, I found myself wishing it was the last episode of the season. That sentiment persisted throughout the half hour... until the final scenes at the dinner table, where my faith in the show was restored.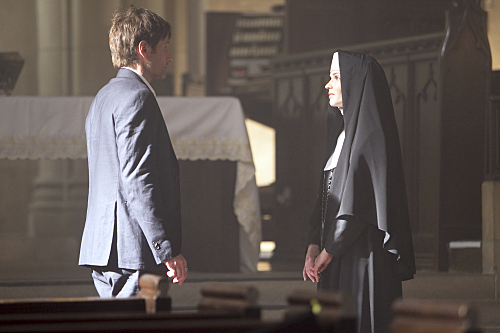 To start, though, did anyone else find it odd that Karen learned of Hank's verdict on the internet? Then, Becca just casually strolled through the door and asked, "guilty?" Cut to Charlie's office, where he didn't seem too nervous or concerned with the verdict ,either. It wasn't until he heard the news from a coworker that he showed any emotion.  

What happened to the days of people lining the courthouse steps in anticipation of a verdict? At first I was disappointed with Hank for taking Abby up on her offer to go get wasted instead of going home to Karen and Becca. After I reexamined the opening scenes, though, and noted the lack of priority given to Hank's potentially life-altering news by his so called loved ones, I had to let him off the hook. 

I could have done without the whole first half of the episode, including the return of the naughty nun in Hank's dream and the whole game of pitty pitty bang bang he and Abby played at her house.

Instead, I would have loved to see Hank's reaction as the verdict was read. What a great opportunity they missed for Hank to tell off the judge or jury as he was lead out of the court room. They could have at least given us a little sex scene subjecting us to the kitchen counter drivel between counselor and client.

Things were looking bleak, but the first ray of hope for a good finish to the episode came when Hank spared Becca a hypocritical speech about the perils of smoking and instead just tossed her cigarette aside and hugged her. Becca came to the rescue and delivered many memorable lines while force feeding Hank reality soup. 

From here, the episode gained momentum. The Father Knows Best sequence was well done. Clever book choice that Hank read Becca. Time and time again Hank has been the little boy who wanted more than he had, only to realize he already had all that he ever wanted. A life full of martinis and Karen's cherry pie I'm sure, to quote the band Warrant, would "put a smile on your face ten miles wide." 

Becca shined once again as she helped the adults realize what they had together and lost. The lovable Charlie returned to form and brought out the best in Marcy as she recalled the story of their anally-fixated friend's hotel pool incident. Hank tried to redirect the focus onto himself as he remarked that he never saw his parents embrace as a child, but no sympathy was granted. Marcy, instead, lamented how she wanted everything to go back to the way it was. Sadly, their reality was forever changed by the man who lived his life only to escape it. 

Marcy had me laughing as she craved a turn in the game of puff puff give, but the high of the moment was replaced by a sobering low as Karen told Hank she was through sleepwalking through her life and quite possibly through with him.

Like Hank could never do for Karen, this episode didn't give me something to look forward to. I, too, may be sleepwalking, but I am optimistic that the season finale will resurrect the Vander-moody clan. Until then, enjoy some of the more notable quotes from this week's episode. 

Tags: Californication, Reviews
Want more Californication?
Sign up for our daily newsletter and receive the latest tv news delivered to your inbox for free!
More From TV Fanatic
On Murder in the First, Cindy's husband ends up dead and that forces the police into overdrive. Will his confession hold up?
On tonight's Under the Dome, Rebecca wants to release a deadly virus into the population. Will she do it? And how many would die?
Fritz is offered a new job with the LAPD on this episode of Major Crimes. Read on for more.
OnMistresses, Joss tries to stop Harry from going back to Australia, Karen faces a dilemma involving her lover and a patient, April has a crisis of conscience - and Savi says goodbye to her home.
---