Right off the bat, you have to appreciate an episode that gives both Shirley and Chang more than three lines a piece, not to mention Dean Pelton.
Something "Applied Anthropology and Culinary Arts" achieved that no other episode has done to date is make me double over with laughter, at one scene in particular.
I know I've chided sight gags before, but the horrified look on Britta's face as she peered into the dark nether regions of Shirley's skirt had me rolling. I had to rewind it again, at least twice.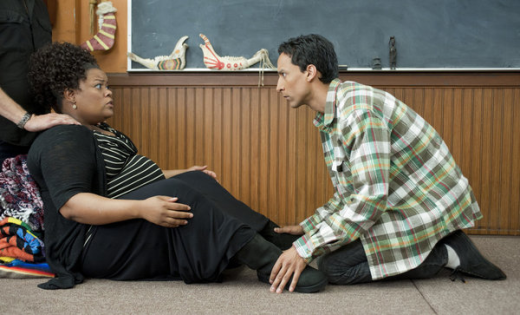 This was Gillian Jacobs' best episode yet, by a mile. Often Britta's Earth Mother-y ways come off more annoying than funny, but this time the role served her well when it came to delivering Shirley's baby. It also gave us another hilariously snarky exchange between she and Jeff:


Jeff: Look, backseat birther. Shirley's on her third kid. She doesn't need a thirty-year old slacker with two one-eyed cats governing her body.Britta: First of all, together my cats can do anything. Secondly, you disqualified yourself from this conversation the moment you decided to grow a wang.Jeff: I regret nothing.Britta: I feel sorry for the airhead you're gonna knock up at the age of 70. You're gonna be sitting in the waiting room playing solitaire on your Blackberry while a life is created ten feet from you.Jeff: Oh and you're gonna squat in a babbling brook and a beautiful starchild is gonna slide out on a ray of sunshine while your cats each half watch because you're so natural.

The funniest line of the episode, though, came by way of someone we've never seen before (or at least she thinks so), Fat Neil's would-be girlfriend, when she said: "We came so close to having one class that wasn't all about them." It's funny, because it's true.

Pierce buying off Abed and Troy's handshake Indecent Proposal-style seemed a bit disconnected from the rest of the episode. It delivered a couple of amusing lines, but sort of dragged the energy down a bit. (The Troy/Abed epilogue didn't have the same oomph I've come to expect from them either.) When Abed joined in trying to help with Shirley, even though his genitals disqualified him from participating, the episode definitely flowed better (especially given his referenced back-of-a-van experience with child delivery).

I thought it was actually sweet, and oddly fitting, that after all the anger Shirley had tossed out at Chang for months that he would be the one at her side to calm her, even though the baby turned out not to be his. At least she named it after him.

Maybe now, Chang won't have to stare longingly through a window, wanting to be a part of the Study Group Group. If anything qualifies him for admission, surely this is it.

Jeffrey Kirkpatrick is a TV Fanatic Staff Writer. Follow him on Twitter.

Tags: Community, Reviews