How I Met Your Mother Review: "Hopeless"
by Chris O'Hara at .
I'm sure there were those who watched tonight's episode "Hopeless" that were left feeling much like Barney did while fishing. It's inevitable as this show is held to a very high standard by its fans, but I felt like Carter and Craig delivered in a number of ways this week.
We saw Barney finally wrap up his daddy issues and were treated to a night of the cast shining in each of their respective roles which have made their characters so loved. There were also a number of clues dropped to help spur on the Mother story line's development.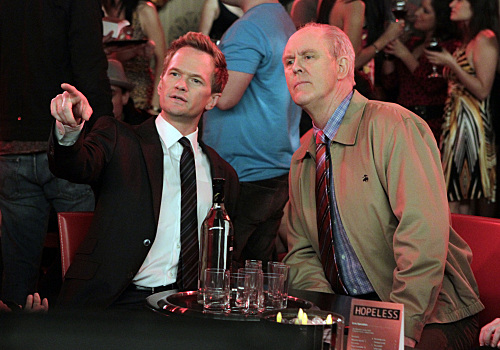 The debate as to what club to take Jerry to was a great nod to the seemingly endless rise and fall of New York City night spots and the corresponding list of singular word names chosen in an attempt to be the freshest and edgiest scene. It reminded me of a fantastically named bar in Mantoloking, New Jersey.

After numerous changes in ownership and name, the current owners finally found a name which stuck when they called the bar Used to Be's.

Marshall and Lily shined as they embraced their roles as swingers. Lily had a comical moment when she got her Meryl Streep characters confused and referenced Julia Child when she had been evoking Anna Wintour from The Devil Wears Prada. I was happy to see that I'm not the only person who unabashedly has an affinity for that film.

Ted and Robin once again danced their Paso Doble of a relationship as they took turns baiting one another with sarcastic taunts. So much so that Ted prevented Robin from rekindling the spark she had once shared with the guy from the clothing store. We were lead to believe though, that we haven't seen the last of Michael Trucco's character. Was this why Robin seemed so happy despite telling Lily somethings just aren't meant to be? This storyline dealt a possible blow to those who contend that the wedding where Ted meets his wife is Barney and Robin's. 

There were, however, a couple moments that seemed to reinforce the exact opposite. The first of which was when Barney let slip that his father would ask him why he wouldn't just marry Robin because he after all, had never been happier than when he was with her. The second of which came when Barney wondered out loud if he had already met the right girl as he and Jerry were driving with Ms. Daisy (Mrs. Perkins) on their way back to Jerry's house. 

John Lithgow delivered his best episode to date. I laughed as he yelled "you're drifting" to Mrs. Perkins. It may or may not have been intentional but it brought to mind the film The Fast and theFurious: Tokyo Drift, where such a driving maneuver was celebrated. His Footloose reference was great as well, when he called Barney a small town preacher from the Midwest.

When he thanked Barney for keeping safe all these years, the button from the Legalize It Fest 1983, I was reminded of the scene from Pulp Fiction where Captain Koons delivered Butch Coolidge his father's watch after keeping it "hidden" for years while in a Vietnam prison camp. I quickly realized Jerry was talking more about Barney holding onto the memory of him, which was a nice moment of closure for those two as well. 

Amidst his usual bevy of comical quotes, N.P.H. once again showed off Barney's serious side as his face and voice dramatically changed when he worried aloud about being too far gone and broken. Crazy Jerry may have been a bust, but Serious Barney has its place in this show for certain. After running in place for a while, How I Met Your Mother took some solid steps with regard to the overall plot and let us all know that our desire to learn the identity of the Mother is not at all hopeless. Until next time, be sure to check out some of the more memorable How I Met Your Mother quotes from this week's episode. 

Tags: How I Met Your Mother, Reviews
From Around the Web