The Big Bang Theory Review: "The Agreement Dissection"
by Carla Day at .
In "The Agreement Dissection", we finally find out why Priya was brought into Leonard's life beyond just keeping him away from Penny ... to nullify the roommate agreement.
Unfortunately for Leonard, but fortunately for the viewers, the roommate agreement-free zone didn't last long, but it provided the backbone for one of the funniest episodes of The Big Bang Theory this season.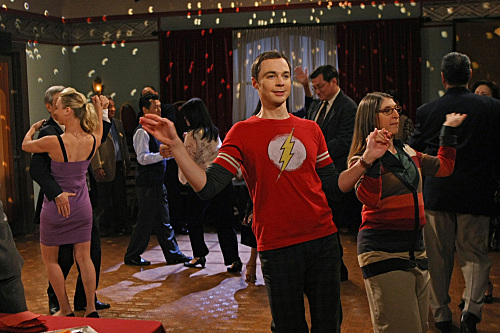 For the first time, I wasn't annoyed with any of the characters, not even Priya or Amy. They both were well-utilized in the story and weren't annoying human beings.

Perhaps, Sheldon did Leonard a favor by blackmailing him and Priya, because now he has a reason to break up with her. As we all know, Leonard still belongs with Penny.

Amy in large doses usually grates at me, but drunk Amy is hilarious.

I hope her relationships with Penny and Bernadette will help bring out that side of her even when she is sober. We really don't need two characters who can only function as full human beings when they are drinking. Though, it would be intriguing to see what would happen if drunk Amy and Raj were to hook up.

Jim Parsons, as usual, had the funniest moments. I'm not sure anyone else could have eaten - or not eaten - greek food in such a comical manner. He is able to use his facial expressions to perfectly reflect Sheldon's circumstances.

The only part that I didn't really find funny was the smoking monkey.

It was a distraction to the Sheldon and Amy moment. It isn't often that the two of them are alone together and I would have enjoyed it better without the monkey. Though, it was good to find out from the vanity card at the end, that the monkey wasn't actually smoking.

Over the last few episodes, The Big Bang Theory has effectively turned into an ensemble show including not only the boys, but the girls as well. If Priya would disappear, the universe would be perfect on my favorite nerd show.

Tell us what you thought and check out some of last night's TBBT quotes here!

Carla Day is a staff writer for TV Fanatic. Follow her on Twitter and on Google+.

Tags: The Big Bang Theory, Reviews
Related Stories