The Chicago Code Review: "Greylord and Gambat"
by Jim Garner at .
We had an action-filled first half of the two part series/season finale of The Chicago Code this week with "Greylord and Gambat."
If you were not aware, it was announced last week that the show was not renewed for another season. Therefore, we must savior these last couple of episodes for the concluding tasty treats they are!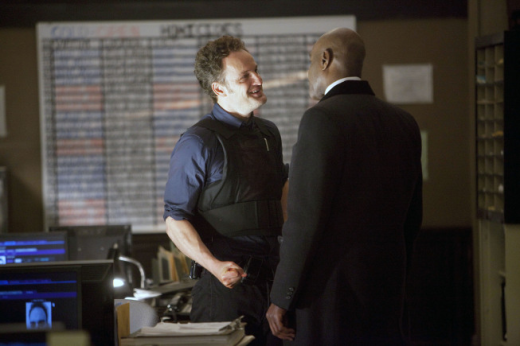 This week certainly had our mouths watering, too. What is it about Liam being on the verge of being discovered that makes these episodes such a nail biter? On the last episode Liam was nearly outed and I spent the entire hour on the edge of my seat; tonight was no different.


You have to feel for Liam. He started his day out with Beth, his boss' hot daughter, asking him out. He ended the day in a shootout with her and being beat by Killian's men. I am just glad she is a horrible shot and got his shoulder instead of the heart like she threatened. Did anyone else feel he shot her in the leg intentionally? I watched the scene twice and he certainly seemed to be aiming low on purpose. 

Of course, between those two events, he also took care of Mikey. I wonder if Mikey realized the instant karma that was going on when Liam followed the instructions he gave him on how to stab someone just moments before on him? Liam was not one of my favorite characters when the show started; he has quickly grown on me. This week he really proved Colvin's and Wysocki's faith in him.

On the flipside, I really like how Gibbons thinks he is a good guy. He truly believes that he is doing what he thinks is right for the city. Unlike Killian who is doing what he feels is best for himself, Ronnin Gibbons really thinks he is a force for good.

Maybe he is in his own way?

For example, loot at his interaction with Lilly: he wanted to get her as far away from harm as he could. Even going so far as to tell her not to tell him where she is going. I know the naysayers will say he did it to keep her from testifying, but I didn't see that in his expression or his words. Don't get me wrong, I am not a Gibbons fan; but I am a fan of Shawn Ryan's amazing writing.

I hope that Ryan lands on his feet quickly with a new show next season. You are in good company, Shawn, as Fox tends to miss genius shows until it is too late; just ask Joss Whedon.   

What did you think of this week's episode?  Do you think Gibbons does more good than bad? Sound off now.

Jim G. is a TV Fanatic Staff Writer. Follow him on Twitter.

Tags: The Chicago Code, Reviews
From Around the Web