It seems like it has been forever since we've visited Carter, Allison and the rest of the gang in our favorite geeked-out small town. But things picked up just about where we left off in "Liftoff."
I was looking forward to SyFy's new Monday lineup more than I was looking forward to almost any fall show on the regular networks this year. With the network moving Eureka and Warehouse 13 to the same night, it makes the possibility of a Fargo and Claudia cross-over that much more likely.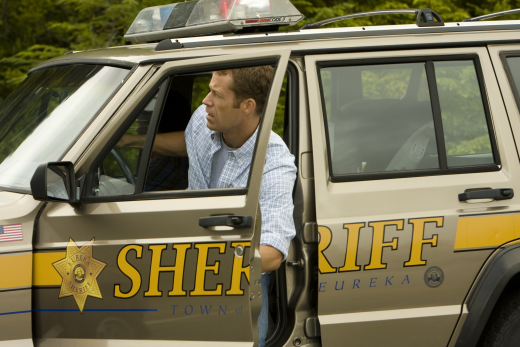 I've missed the romance between Jack and Allison over the last 10 months, as I was thrilled to see we got to start a season without them regressing to friendship status again (I am looking at you, season two).

However, I was surprised when Carter got confused when Alison called him by his last name at work and first name at home. Thankfully, she explained things to him at the end of the episode.

This confused me. Haven't they been working together since they took the plunge in the sack? Has it actually only been a couple of days in Eureka since the events in "

I'll be Seeing You

?" Or was this just put in to remind us where we left off with their romance?

I'm going with the last one. One of the things you can say about these writers is that they do a great job of keeping us up on the subtle story arcs.

Overall, this was a decent offering. We got plenty of geek-speak, some great pop culture references, (did anyone else catch Deputy Andy's "I'm on a Horse" comment?) and, of course, a whole lot of stuff going wrong.

The most worn part of the story was Fargo being drug before the Appropriation Committee to justify the budget for GD yet again. I think we have seen this with every head of GD from Stark to Allison. Seriously, we could just get a reference to it and I'd be happy.

The biggest thing I'm excited for this season is Zane and Lupo. When he called her "Jojo," my heart just broke all over again for what she got lost in this time line. Jack got Allison, Henry ended up winning Grace... I beg you, Eureka team, please let Jo get her Zane back!

Jim G. is a TV Fanatic Staff Writer. Follow him on Twitter.

Tags: Eureka, Reviews
Want more Eureka?
Sign up for our daily newsletter and receive the latest tv news delivered to your inbox for free!
More From TV Fanatic
This week on The Last Ship, Danny gets sick and the crew begins to panic. Is it the virus? Meanwhile, Rachel's vaccine trials continue to fail.
Who was able to successfully problem solve on The Rachael Ray Show this week? Find out now in our review of Food Network Star.
The Masons are reunited on Falling Skies Season 4 Episode 6. Will it be a happy or contentious reunion?
What took place on The Real Housewives of New Jersey Review this week? Read our rundown to find out!
---