I'm trying something new this week, Pretty Little Liars fans: a live blog!
Come along with me as I watch "Surface Tension" and jot down whatever thoughts come to mind. Why? We're all about speed, efficiency, humor and insight at TV Fanatic. This review promises at least one of those.
I encourage readers to leave comments below about my take and the events from the episode as each progresses. Let's give this a shot, shall we?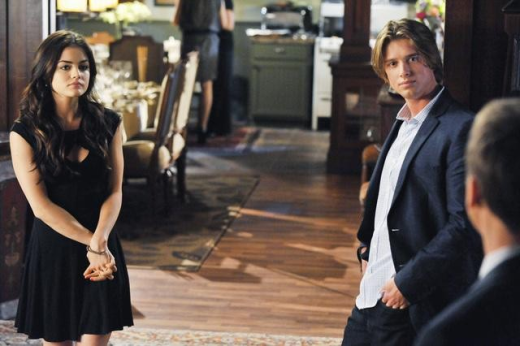 Previously on Pretty Little Liars... Jenna can maybe see! Mike has a garage-stealing problem! Two guys are really shady! Ezra eats Aria's face! Emily's mom finally realizes how useless she is! A does some crazy stuff!
8:03 The episode begins with the girls' usual pow wow. How are they first wondering about whether or not A killed Alison?
8:08 Aria tells her mom she "talks like a mom." Pam should really take some notes from her.
8:10 Man, Emily makes a better breakfast than whoever cooks for the Van Der Woodsens.
8:12 Gonna make a bold prediction: Aria's parent won't give their daughter and Ezra their blessing.
8:14 What's up with Mike? Drugs? Secret boyfriend? Eating disorder? Or... maybe he's just a 14-year old boy.
8:16 Toby is not an architect. But he did stay at a Holiday Inn Express last night!
8:22 Question about ABC Family's upcoming movie Teen Spirit: think they came up with the title before they had a script? Me too.
8:23 Hey, a Dr. Sullivan reference? Where the heck has she been?!?
8:24 Emily and Aria agree that Spencer is really good at getting people to talk. Between that and her ability to discern the best time for things, this girl has serious abilities.
8:26 Ella and Ashley finally talk about what's going on with their daughters. It's nice to see the adults getting involved, isn't it? Except Pam, of course. She's in Texas.
8:33 Note to Ezra: bringing a bottle of scotch to your girlfriend's father is not a recommended way to broach the topic of dating his 16-year old daughter. And, I'm sorry fans of this couple, but their pairing is gross and unnatural.
8:35 Never has a field hockey stick discussion been filled with more subtext.
8:37 Spencer to Aria: Think about what this means. Aria: I'll think about it. Okay, phew. I was afraid she wouldn't think about it.
Hanna: Is this a gay thing?
Emily: No. It's a brain thing. | permalink
Okay, that made me laugh.

8:39 Who is in for The Lying Game? (Really hope my former rugby teammates didn't see me with my hand raised.)

8:44 Oh, Peter Hastings. You may be sketchier than your late son-in-law.

8:46 Aria is sort of cheating on Ezra here, isn't she? There is such a thing as an emotional affair.

8:47 This chat between Jason and Ezra is more awkward than when Emily came out to her parents, or whenever my friends find out that I wanna watch The Lying Game.

8:51 A little Caleb background. I like it. Sketchy vs. criminal? Honest vs. suicidal? A secret only for Hanna? Good stuff.

8:53 Can you burn a field hockey stick? I don't mean morally. Mr. Hastings has proven the answer to that. I mean literally. It's 90% carbon and 10% kevlar. Doesn't seem like great kindling to me.

8:59: Ohhhh, the Mike storyline comes together. Jenna is crashing at Garrett's? Put the pieces together, Aria!

Overall: a strong episode. Having Aria's parents organize a dinner that included Ezra and Jason felt forced, but I'm happy to see some suspicions raised about Garrett, and over the girls by their mothers. This is a small town. It's just impossible to believe that secrets can remain buried for long. Heck, even field hockey sticks can't!

What did you think of the hour and of the live-blogging format?

Matt Richenthal is the Editor in Chief of TV Fanatic. Follow him on Twitter and on Google+.

Tags: Pretty Little Liars, Reviews