In a word, the penultimate episode of Curb Your Enthusiasm's eighth season was... enjoyable. With its therapist blunders, sexual accidents, backwards civil rights activism, and heartwarming Bill Buckner moments, "Mister Softee" was an extremely fun half hour of television.
For my money, Fred Melamed put forth some of the best comedic work of the summer in his small role as Larry's therapist. The subtlety he used in blatantly spilling information on his clients, while acting like he wasn't, was absolutely brilliant. He merely mentioned it was an illustrious director Star Wars that frequented prostitutes. That isn't obvious, right?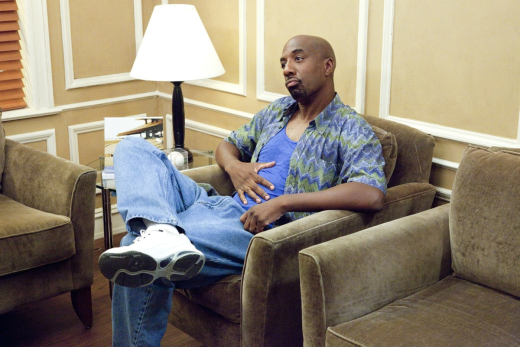 When LD's broken car seat came into play with Ana Gasteyer having herself a good time in the passenger seat, I wasn't sure if it was going to go to a funny place. But then Susie came running out of the building and towards Larry's car and the game changed. There have been few things as disgusting and as hilarious as watching Susie in the passenger seat, along with LD's reaction while driving that now gross car.
Everyone loves them some Leon Black, but when he tries to take things to another level, he's even better. Like when he pretended to be Danny Duberstein last season. Leon killed it as a Black man with glasses in this episode. Although we didn't get to listen in on his conversation with the security guard or Dr. Thurgood, imagining what he was saying was still funny.
The highlight of the episode, though, had to be the Bill Buckner story. I had just turned one when Buckner had that little mishap back in the World Series, but that doesn't mean that what happened to him isn't engrained in my mind.
Watching Larry go through a similar situation, only to meet the legend later on was great, but to have them hang out, complete a minion, and then have LD cheering Bill on as the former baseball legend redeemed himself in front of hundreds of people in the streets of New York, it definitely gave me some chills.
Take a second to laugh at the moment when that little girl invented the "pretty, pretty, pretty good" line, and then tell us how you would have dealt with one of Larry's predicaments this week:
The Order Share
LD's Stance: If you and a friend order two things at a restaurant, with the intention to share, you must stick to that deal once the food comes out.
My Perspective: I absolutely agree. That is a verbal agreement that you abide by no matter what. How is it fair that just because Jeff likes the look of the chicken, he gets to keep that all to himself? If you go halvsies, you go halvsies. There's no going back, even if that fish is disgusting.
As always, here are some of our favorite quotes from "Mister Softee." Don't forget to check out all the best one-liners at our Curb Your Enthusiasm quotes page.
Yari: You f*cking Bucknered it! Why is Buckner on my team?!? | permalink
Leon: I get a f*ckin' tingle in my johnson when a motha f*cka tell me he's about to get some ass. | permalink
Larry: I saw this commercial last night, and Michael Jordan had a Hitler moustache.
Buckner: Yeah I saw that. He's the first one to wear that since Hitler. Isn't he? | permalink
Larry: That's a remarkably idiotic thing that you just said but you know, the fact that you're wearing glasses, I perceive it as a little less idiotic than I normally would. | permalink
Dan Forcella is a TV Fanatic Staff Writer. Follow him on Twitter.

Tags: Curb Your Enthusiasm, Reviews
Want more Curb Your Enthusiasm?
Sign up for our daily newsletter and receive the latest tv news delivered to your inbox for free!
More From TV Fanatic
Evan, Paige and Bob confront Russel about his rug theft, while Divya and Jeremiah treat a woman desiring to be a mom. But were those all the surprises the Hamptons had to offer? Read our review of "I Didn't See That Coming" now!
On Chasing Life, Leo makes wishes come true. Elsewhere, Brenna meets her other sister, discovering one more family secret. Read on for more!
Join us for the One Tree Hill Rewatch of Season 1 Episode 4! Ready to relive the fun drama?
Power struggles ensue all around Chester's Mill on Under the Dome. Lives will be put on the line.
---