Gather around, Gleeks, it's time for another edition of the TV Fanatic Round Table!
Below, editor-in-chief Matt Richenthal is joined by senior staff members Steve "Vote for Brittany!" Marsi and Eric "Kurt Rules!" Hochberger as they dissect "I Am Unicorn," the second consecutive strong installment of season number-three. As always, reader feedback is encouraged...
~~~~~~~~~~~~~~~~~~~~~~~~~~~
What was your favorite scene in the episode?
Matt: Will standing up to Quinn. A teacher should be more understanding when a student is going through such a tough time, some might argue, but could you have imagined the Mr. Schuester from last season making this kind of statement? Tough love is sometimes necessary and I applaud the writers to giving Will a spine this fall.
Steve: All of the reactions and commentary from the school play directors. Coach Beiste, Emma and Artie. Who knew there was some comedic material to be mined from this trio?!?
Eric: I'm a sucker for the Pucker... man. Any one whose eyes didn't well up when Noah held his daughter might want to get his or her tear ducts examined.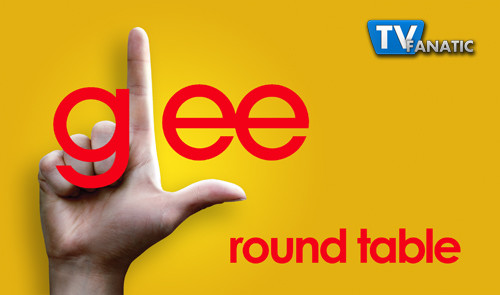 What was your favorite song from the episode?
Matt: "Somewhere," no doubt. Given the talent of Lea Michele and Idina Menzel, along with the background between their character, this has already jumped into my top five all-time covers on Glee.

Steve: Darn you, Matt. That was my answer! I don't see how anyone could choose anything else, for the two reasons you just said. What incredible, emotional voices.

Eric: I'll tell you how someone could choose something else, Steve. Two words: Darren Criss. He killed "Something's Coming," as evidenced by the fact that it may land him the West Side Story lead.

Would you vote for Kurt or Brittany?
Matt: Kurt. I adore Brittany and pretty much every word out of her mouth. But I fear that she'd be forced to educate herself if she landed such an important position and we just can't have that. What fun is a Brittany who knows that her nipples aren't pepperonis?

Steve: I would also vote for Kurt, but for a different reason: Santana. Just like how some people worried about Bill Clinton's influence if Hillary were elected, I wouldn't feel calm knowing how close my president is to someone known for scheming and manipulating.

Eric: Are you guys insane?!? If Brittany were elected, there would probably be dessert in the cafeteria for breakfast and the school mascot would be a unicorn. It would be awesome!

Are you glad Shelby is back?
Matt: Yes. I don't exactly buy the premise of a second choir, but I can look past that contrived basis for her return and focus on the rich storyline avenues the show can now take between Shelby, Rachel, Puck and Quinn.

Steve: Yes, even though it's seriously confusing. Menzel looks JUST like Berry! It's perfect casting, but it's almost eerie. Can we meet her dads next? I really hope so.

Eric: Would rather see April, but I'll take what I can get.

Tags: Glee, Round Tables