How I Met Your Mother Review: "The Naked Truth"
by Chris O'Hara at .
After learning he ruined Punchy's wedding reception, Marshall beat himself up and made his "sweeping declaration" to never again get drunk on "The Naked Truth," which proved that the Internet is forever and highlighted just how dangerous a camera phone and a Youtube account can be to one's career.
Great attention to detail by the set designers here, as they had Marshall nursing his hangover with Gatorade and a Diet Sunkist chaser.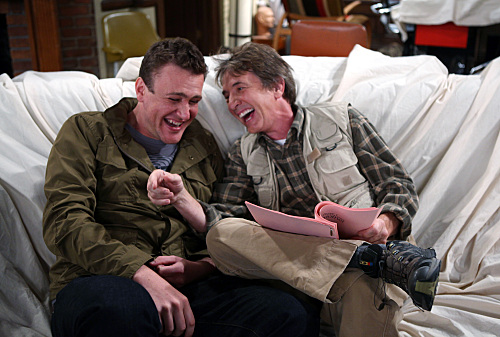 Then we had the appearance by Jimmi Simpson. His portrayal of Peter Durkenson, a forty-ounce fondling fool of sorts, was one of the better guest spots in recent memory. We will forever be in his debt for introducing us to the legend of Beercules! As for Martin Short, all I can say is that Garrison Cootes gave me the creeps. 

Marshall's naked truths threatened his chances of securing his dream job, while also providing the best laughter of the episode, leaving Barney's detailed account of his history of lying to women as a close second. The "White Swan" line sent me into a fit of laughter, only to be outdone by the one about the "Moon Snake." The winner, though, was when he confessed to actually going

Soul Man

 under the alias "Barnell" a la C. Thomas Howell.

Like the season premiere, we once again saw that great blend of sarcasm and sentimentality on display when Barney confessed to Nora that she was out of his league. While his complete honesty wasn't enough to sway her, his stunt at the diner reminded me of the "Lee Holloway Hunger Strike" in 2002's Secretary. Well played, sir.

Robin was back to her usual stunning self as she modeled her sexy "little black dress" while dismissing any would-be compliments from Ted. Growing up, I was rather fond of a poster I had in my room that featured Suzanne Somers's character Chrissy from Three's Company, so I totally related to Robin when she mentioned how she may or may not have dated her Lenny Kravitz poster off and on throughout high school. 

When Lily extended her balled up hands to Ted and told him to choose one, you just knew she was going to slap the taste out of his mouth, but the anticipation made the pay off that much better. With some much needed sense knocked into him, Ted went to the Architect Ball with clear eyes and a heart soon full of palpitations when he saw Victoria once again. So, was "Cupcake Girl" the second big piece of the puzzle seemingly revealed in as many episodes? Or were we being lead down another rabbit hole by the ever enigmatic Craig Thomas and Carter Bays? Or as i like to call them, the C&C Misdirect Factory.

Bays has said in various interviews that the reveal of the mother will not take advantage of any loop holes or clever twists. Does the end of Monday night's second episode fall under such categories? Should we be reading into this closing scene more, or should we instead keep on looking for the yellow umbrella? 

I'll defer to you, as I admit, I am not the foremost authority on Mother theories and very much appreciate reading all you real sleuths out there have to say. In the meantime, BOW DOWN TO BEERCULES! 

Tags: How I Met Your Mother, Reviews
From Around the Web