Rescue Me Series Finale Review: Gone But Never Forgotten
by Sean McKenna at .
After seven years and 93 episodes, the firefighter doors of the fantastic television show, Rescue Me, have fittingly closed - mere days before the 10th anniversary of 9/11.
It was a drama that focused on aftermath of such a tragic event and the ways in which its characters struggled to overcome obstacles and simply live out some form of a normalcy. Love, sex, life, and death were key themes that surrounded the crew of Truck 62, and, even at the end, "Ashes" managed to uphold the show's particular style and pace in effortlessly blending drama and comedy.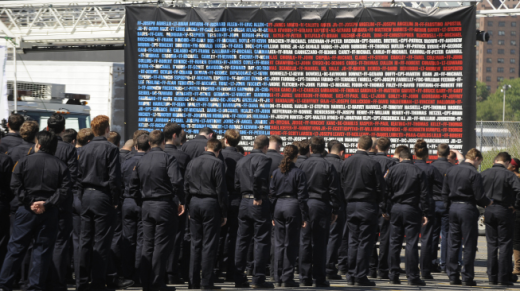 The episode's introductory tease/fake out sequence continued the somber and mournful attitude that last week's "Vows" ended on. Even though it was only a dream, there was still an emotional moment in watching those flag laden coffins moved down the church's center aisle.

Lou's heartfelt speech about bravery and heroism made the moment that much sweeter and I believed every word he spoke. "I shall see you on the other side," struck a chord that made the dialogue more sincere and honest. It was a far better scene than the ones in "Jeter."

As much as it was sad that Lou was the chosen character to meet his death, he was also the right character to push the others forward towards something positive. He really was a glue that kept them all together.

It was his letter to the guys that expressed the positivity in each of them and allowed them to reconsider staying at the house. Sure, all of them carried their own specific flaws, but working together made them something special. It was a letter that got to Lou's core and illustrated the bond that they had created and has made watching them all these years worthwhile.

Of course, using a sappy and overly mournful funeral sequence just wasn't the show's style. In fact, Lou's exploding ashes in the car was so darkly wrong, it made it so truly right.

I couldn't stop laughing at the sheer ridiculousness of it all and the crazy discussion on how to fix the problem. Red velvet cake to replace the ashes? Only Tommy and the gang could come up with that brilliant idea.

The absurdity of such an event didn't detract, either. Rather, it enhanced the moment and kept the feelings real, no matter how exaggerated or outrageous the circumstances. It was just another prime example of the show's ability to go to the extreme, express that life isn't perfect, and move forward despite all the ups and downs.

I was very pleased that Tommy un-retired (despite his humorous attempts at being Mr. Mom) simply because firefighting is his calling. His final speech to the brand new probies was reminiscent of a similar moment in the very first episode at the exact same location.

This time, Tommy has clearly grown. He knows that you can't drink or screw your way to understanding why people die or don't die. Life happens. Death happens. And in the profession of the firefighter, it's bound to happen a lot.

Even his reiteration of remembering the fallen 343 on 9/11 was an emotional backdrop. Each thought and sentence Tommy spoke flowed together perfectly as if fitting all of the final puzzle pieces together. It was the ideal way to close out the show.

Indeed, Tommy has come a long way before finally being "rescued" and he's managed to find that glimmer of light, even if he still doesn't understand why certain things happen. After all, it's a far better place than being swallowed by the fires of grief and despair.

Imagine if the show really did end with Tommy dying or never overcoming his demons. It would send a rather bleak and despairing message about life.

This rather hopeful ending not only concluded what's been a great seven years, but illustrated that any character can grow, no matter how flawed. Life goes on. Sure, Tommy still sees ghosts, but his outlook is far more pleasant than damaging.

It's great to see him find the right path.

Could I say that I was disappointed that the rest of the characters' storylines seemed to wrap up quickly or disappear (Chief Feinberg's Alzheimer's perhaps?) or that Tommy delivering Janet's baby was too unreal even if it did bring them together? Sure, but nitpicks like that get away from the heart and core of the greater story that Rescue Me aced with blazing glory.

In the end, it's a bittersweet feeling knowing it's all over. Yet, one thing remains for sure: Rescue Me will never be forgotten.

Sean McKenna is a TV Fanatic Staff Writer. Follow him on Twitter.

Tags: Rescue Me, Reviews
From Around the Web