So there's a third generation of witches... and a very useful crystal... and Cassie and Adam might not be able to fight fate for much longer.
Those were just a few of the developments covered on The Secret Circle this week, as Matt Richenthal, Jim Garner and Eric Hochberger delve into episode number-two, "Bound," in the following Round Table discussion. Won't you join us?
~~~~~~~~~~~~~~~~~~~~~~~~~~~
What was your favorite scene from the episode?
Matt: Dawn taking down Henry. It answered any questions we might have about Dawn's dark side and, come on, who hasn't seen Species? Natasha Henstridge was born to play evil.
Jim: I'm a romantic sap, so I am going with Adam and Cassie demonstrating the spark they have for each other while Adam showed Cassie how to pass energy to the light bulb.
Eric: Cassie reading the note from her mom. I couldn't help but wonder: why warn your child about impending danger after the fact?!? Come on, Mrs. Blake, this is a chat you should have had years ago.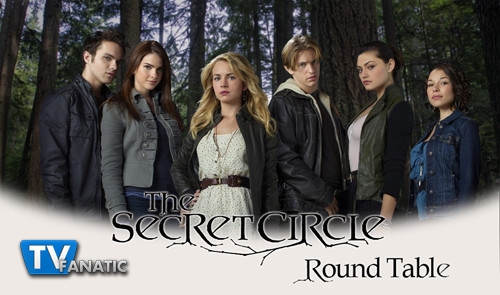 Do you trust Diana?
Matt: No. I'll repeat what I wrote in my review: we'll soon learn that she's working with her father.

Jim: If I am on fire and I have to pick Diana, Faye, or Faye's mom Dawn to throw water on me, Diana is the only one I'd trust not to throw gasoline instead. But time will tell if she is her father's daughter or not. 

Eric: Yes. Didn't her conversation with Adam in the car prove that? She isn't about manipulation or game playing. She was concerned about Cassie and she came right out and asked. Mature move.

Should Cassie have agreed to bind the circle?
Matt: Yes. What was the alternative? Don't bind it and have her science experiments continually blow up in her face? She'd never get a passing grade that way.

Jim: Cassie made the best point possible: without the binding, they were hurting innocent people, so yes, she did the right thing.

Eric: Who says she agreed? Kevin Williamson has mentioned numerous times how this show is all about fate. Even if it were just sub-consciously, I don't think she had a choice.

Are Cassie and Adam meant to be?
Matt: Yes.. but that doesn't mean they will be. Adam's father was clearly meant to be with Amelia, too, and we know how that turned out.

Jim: Love is magical, so, Yes! they are meant to be together!

Eric: No. Cadam? Assie? No couple nickname works for them.

Hotter scene: Melissa in her underwear or the lab fire in class?
Matt: No comment.

Jim: No comment.

Eric: No comment.

Tags: The Secret Circle, Round Tables