Desperate Housewives Review: "Making the Connection"
by Christina Tran at .
Another week, another solid installment of Desperate Houswewives.
Once again, this episode made me realize how much I'm going to miss this phenomenal show. "Making the Connection" reminded me that I better enjoy this while it lasts because my Sundays will soon feel a bit empty without the Wisteria women's sometimes bizarre and silly shenanigans.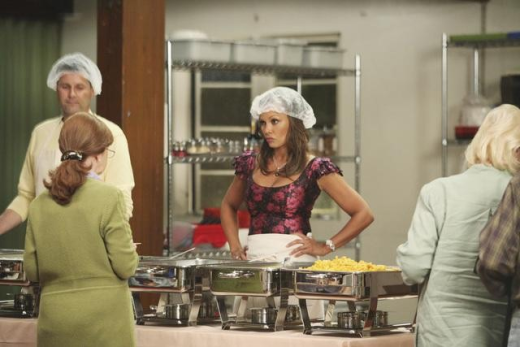 Speaking of which, I didn't care too much for Susan's ridiculous behavior. Typically, I easily overlook the outrageousness in shows such as Desperate Housewives, but Susan's foolishness became annoying quickly.

I got that she was feeling distant and longing for some punishment after smoking in a prohibited area and placing unrecyclable items in the recycle bin. I didn't need to see her also stealing from the freebies, parking in a fire zone, or even assaulting a motorcycle. It just wasn't funny and Susan was obviously having trouble with dealing with her guilt.

In spite of my irritation for Susan's acts of misconduct, I'm glad that Susan and Carlos were able to talk about their lingering guilty consciences with one another. While the other housewives seemed to have gotten over what happened and are back to playing poker, both Susan and Carlos were still rightfully feeling the repercussions of that dreadful night. It can only be a matter of time before one of them breaks the code of silence.

I did get a kick out of Gaby's attempt to fix her and Carlos's problems in the bedroom with the help of a stripper and a pole. Oh, Gaby, can't you see this secret could quite possibly swallow your husband alive? Moving on just isn't going to happen overnight.

Elsewhere: Finally! Tom manned up to Lynette. It's too bad it took him a separation to realize that he's allowed to say "no." Although it looks like these two won't be changing their relationship status back any time soon, I am looking forward to seeing how Tom and Lynette deal with the single life after being married for so long. But I'm betting they will eventually get back together. What about you?

Renee and Ben got off to what appeared to be a start to a new relationship. We also found out a little more about Renee's history when she and Ben shared their troubling childhood past. By the way, Ben seems like an overly confident man with much more of a story behind him than a desire to help the elderly.

Although charming with the ladies, I got a weird vibe when Ben confronted Mike about his past. After all, this is Wisteria Lane, and I can't help but wonder whether or not Ben is a good or bad guy. What's your take on the newest Fairview resident?

Lastly, let's discuss the most pressing topic: Bree's strikingly familiar and unexplained note, which bore a striking resemblance to the same letter that Mary Alice received. Just in case you forgot what it said, here's a reminder: I know what you did. It makes me sick. I'm going to tell.

Throughout the duration of the episode, I kept thinking that Chuck must be the worst detective ever to not realize how uneasy and frazzled Bree had become. Then, not surprisingly, Bree paid a visit to the unforgettable Paul Young, who conveniently told her that he confessed to the murdering of Martha Huber and the details of Mary Alice's letter to... Detective Chuck Vance! Dun... dun... dun!

Could Chuck really be the author of the disturbing note? Is the note that Bree received even about what happened with Gaby's father? Was Paul Young even telling the truth?

Overall, I'm marking "Making the Connection" down as another resounding episode for Desperate Housewives. Hold on to your seats and keep that tissue box close by because this is clearly going to be one heck of a concluding season.

Tags: Reviews, Desperate Housewives
From Around the Web