Family Guy Review: The Story of Brenda Q
by Kate Moon at .
Family Guy was very strange was awfully strange this week. Not strange in the incoherent sense that Family Guy often tends to be, strange in that "Screams of Silence: The Story of Brenda Q" felt like it was trying to tell a morality tale in a twisted fashion.
That isn't the craven Family Guy most of us know and love, is it?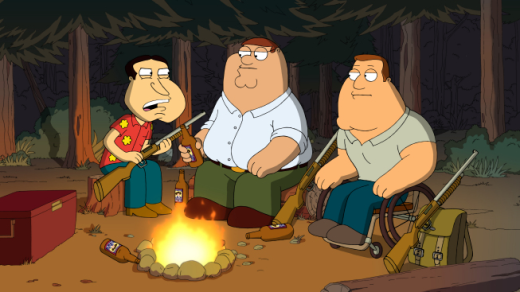 "Screams of Silence" mainly centered on the return of Quagmire's sister, Brenda, who is still with her abusive boyfriend, Jeff. With the episode focused on such a dark, tragic theme - with moments of harrowing beating in between, no less - I was afraid that Family Guy would go too far with its jokes. Fortunately, it didn't. At least not to me. But it did take the alternate route of simply not being very funny.

They could have made such a smart, satirical episode that seriously addressed the issue of domestic abuse. Was that too much to expect from a sitcom like Family Guy?  Perhaps. But then what's the point in creating an episode revolving entirely around that topic? Without the irony, without the light-heartedness, it just became a depressing half hour that put me on edge.

It was nice to see some resolution with Brenda's storyline, and refreshing to witness Quagmire take a protective attitude towards his beloved sister. While it was kind of awesome that he ended up killing Jeff, the last scene with Jeff's "farewell letter" left a bitter taste in my mouth. Must Family Guy resort to poor jokes just to conclude the episode on a lighter note?

I appreciated the effort, but the writers failed to master the balance of real issues with real humor this week. What did you think? Browse through the few winning Family Guy quotes of the night now.

Tags: Family Guy, Reviews
From Around the Web