Family Guy Review: "Seahorse Seashell Party"
by Kate Moon at .
Thanks to American Dad's triple cross-over with Family Guy and The Cleveland Show for its hurricane-themed episode this week, I was excited to see what the former would do with "Seahorse Seashell Party."
Although I knew that the episode was going to be a normal installment, I still harbored some hope that other characters from the of Seth MacFarlane would make an appearance.  Alas, it was not to be, and the half hour felt quite disjointed as a result.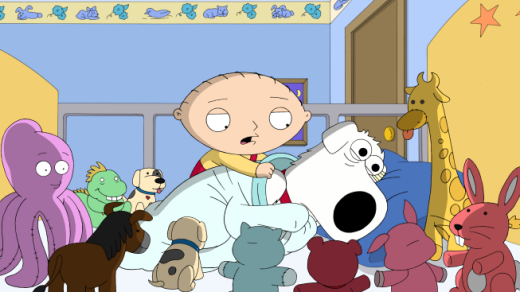 With Quahog besieged by the hurricane, Brian ate some shrooms while Meg decided to finally stand up for herself. Brian's storyline would have been far more interesting if Stewie had digested some shrooms, too. Instead, Brian's disgusting trip down the drug-induced rabbit hole ended up with Stewie stitching his dog's ears back up and soothing him as he came down from his high.

The second plotline involved Meg laying into her family about her constant mistreatment. Was it a long time coming? Heck, yes. Was it eloquent? Yes. Was it contrived and uninteresting? Yes. 

While Meg has always been an undeveloped character and the Griffin family's punching bag, it made no sense for her to confront her family so suddenly. Her speech almost made too much sense to make an impact at all. 

Although it was gratifying to see the family collapse under her attacks, Meg's "epiphany" that she was the lightning rod for negativity also felt contrived. Why should Meg go back to being exactly as she was? It would be far more interesting to see Family Guy deal with the consequences of their actions towards Meg and move forward. Status quo can be boring.

There was one shining fourth wall moment that made the sitcom priceless tonight, however, saving the show. "Stewie Just Said That" was trending on Twitter just as Stewie announced that it was trending on Twitter! You are a true Internet star, Stewie Griffin. And, with that, enjoy these Family Guy quotes from the episode!

Tags: Family Guy, Reviews
From Around the Web