Due to popular demand by at least two separate commenters, we have resurrected the How I Met Your Mother round table!  It's been over a year and a half, so please forgive us if we're a little rusty.
So it's me, former Round Table panelist, The Barnacle.  But now I'm back, under the guise of my real name and I've enlisted the help of our very own HIMYM reviewer and expert, Chris O'Hara, along with TV Fanatic's Leigh Raines to help discuss one of television's most original sitcoms.
So join us as we discuss everything from Barney's pickup tactics to Kal Penn's introduction in "The Stinson Missile Crisis"
Favorite BDS (Bimbo Delivery System)?
Chris: Favorite BDS, or as I termed them, Weapons of Mass Seduction, had to be Jack Fantastic the gay hairdresser with the hot "straight twin brother." My reasoning behind this choice was the time he must have spent learning how to cut and style hair. I honestly don't know how he finds the time, what with his job at GNB and commuting to Hoboken for the last six months to hone his knife skills and hibachi cooking techniques all while keeping up the N.L.P. or neuro linguistic programming, of Marshall.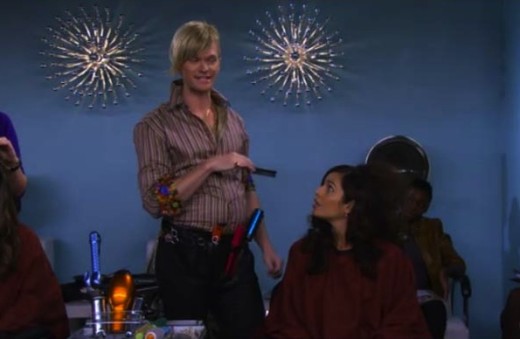 Leigh: Jack Fantastic was pretty well...fantastic, there's no denying that. Did anyone else notice the mini gut on him? For variety purposes I'll go with Arnie Linson, just because I always wondered who actually called those "lawyers." Then again...probably the same girls who fell for his free breast reduction consultations, casting couch antics, and a pre-recorded message from the Cold Caller 5000.
Eric: Sorry, Leigh, we may have second choice to Chris, but I'm going to have to disagree with you.  Who wants to be Arnie Linson and get your own leftovers!?  I'm giving it to the connection at the Port Authority.  The time honored tradition of the casting couch never gets old, and you have to give it to the Barnacle for improving an already fool proof plan. 
Favorite three-man Halloween costume from the post credit montage?  Give them another suggestion.
Chris: This one is easy…C3PO, R2D2 and the droid Luke's uncle almost bought from the Jawas. Marshall would have also made a great Chewbacca, Lily as Leia, but no way Ted pulls off HanSolo. He would have to go as wrinkled Darth Sidious or even Jar Jar Binks seeing how their "humor" is on par with each other's.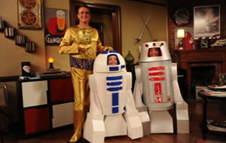 Leigh: Aww the Disney lover in me has to give it to Lady, the Tramp, and their spaghetti. I could give Disney suggestions for days, but after watching Marshall and Ted in the birthing class, my thoughts have turned to the golden rule: It's okay if it's in a 3 way. I think this year they should go as Justin Timberlake, Andy Samberg and Lady Gaga. After all Ted has to look fly this year to seduce the Slutty Pumpkin, and nothing says fly like a 90s running suit.

Eric: Yeah, wow, it's tough to go against a Star Wars reference on any Mother episode, especially when Chris got us a screen shot.  As far as new suggestion (besides a kudos to Leigh's ultimate threesome idea), it's too easy with love triangles being all the rage these days.  But for hilarious sake, I'm shoving forcing Lily and Marshall into Bella and Edward costumes, giving Ted ample opportunity to be a creepy, annoying Jacob.  

Clearly Barney is a man of his word and rocking the "Ducky Tie."  Give the man some credit and ideas for how to pull off this fashion faux pas 

Chris: Robin had a good idea when she suggested Barney wear a vest under his jacket to hide that crime scene of a tie. He could also "flightsuit up" more often posing as a fighter pilot. Or he could use the comical tie to his advantage and run with the Patch Adams theme and tell women he is a pediatrician who takes care of sick children

Leigh: Barney should figure out a way to ruin that tie, like perhaps messing up in Hoboken Hibachi class and dicing it off? Or he needs to pair it with a full Ducky Suit and make it so offensive on the eyes that the group will be begging him to get rid of it.

Eric: You do not ruin the ducky tie!  How dare you! Now I'm not sure how much work is involved in this, but I feel like converting in into some sort of Ducky bow tie could be a game changer.  Thoughts?

Welcome Kumar!  What did you think of Robin's potential new love interest? 

Chris: Kal Penn underwhelmed in his first episode, but maybe they didn't want him to be too sarcastic given his role as Robin's therapist. I hope he loosens up in future scenes because based on what we saw this week he does not seem like a good fit for my favorite girl from the Great White North.

Leigh: I love Kumar and found Kal Penn to be funny but not too splashy in this episode. It was a good way to introduce him since he'll be around for a few episodes. However, if he doesn't step it up next week I'll be disappointed. 

Eric: Yeah, sorry, I'm on team Kumar.  Err, whatever his character's name is.  And not just because he's pulling off the final part of the Harold & Kumar reunion.  And not just because he sandwiched Princeton in between his two Harvard degrees.  But because he let our girl narrate an entire episode during therapy.  

Eric Hochberger is the programmer of TV Fanatic, so please forgive his mediocre writing. His programming is far better. Follow him on Twitter and/or email him. Just don't request threaded comments. They're coming.

Tags: How I Met Your Mother, Round Tables