Nikita Review: The Ultimate Secret!
by Carla Day at .
On "Looking Glass," Michael and Nikita attempted to rescue one of Michael's former assets, the first lady of Belarus that he seduced six years ago. Nikita was not thrilled to find out about Michael's previous mission.
Is anyone else getting a little tired of Nikita being portrayed as a jealous girlfriend? Michael clearly loves her and even though he continues to reassure her, she constantly acts like a jealous teenager. I can't decide whether to give her some slack because of her lonesome childhood or to slap her silly because she's a strong and confident woman. For now, I can accept that she's insecure in her personal relationships, but I hope she gets over it soon because it's getting a bit grating.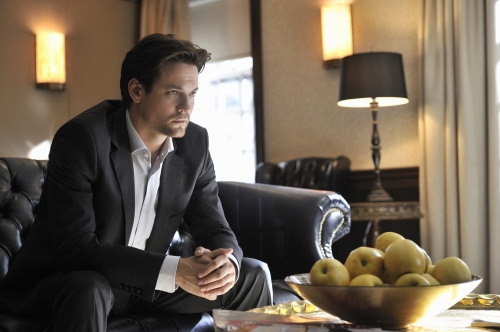 In contrast, it was a pleasant surprise to see an episode that wasn't about the black box, Semak, or the battle between Alex and Nikita. The writers did a great job of having both Division and Nikita and Michael all working on the same situation without it being about bringing down the other side. I particularly enjoyed that they didn't even know they were both in Belarus at Ovechkin's house. Even better was that they were working with the same endgame in mind.

Unfortunately, while Alex and Sean seem to have a moral compass, as do Nikita and Michael, Amanda's has gone to the land of Percy. How long before Amanda is ousted by Percy or at least until he has regained some of his power and control? The scene when he put on the suit with foreboding music was hopefully not indicative of the future.

While Amanda is showing herself to be on the evil side of the spectrum, I'm not ready to see Percy leave his glass cage .. yet.

In the end, the whole episode led to the important reveal at the end: Michael has a son. Should Nikita tell him the truth? This is such a difficult decision. Cassandra was right that there is no way that Michael would leave his child and that Max would potentially be a target for their enemies. Does that justify keeping the secret from him? I don't envy Nikita's position at all; no matter what she decides she will be right and wrong.

Michael's wife and daughter were killed and this is both a reason to tell him and not to tell him. Max would give him a second chance of being a father that could help him get over what happened to his family. At the same time, his family was killed and he would be putting Max at risk of suffering the same fate as his daughter. Wow.

Is it a secret for Nikita to keep? I think she should tell Michael the truth. By him knowing of his son, Max is in no more danger. Then, it is up to Michael to either pursue a relationship with Max or to leave him alone for his own protection. This is not a decision Nikita should make.

What will Nikita do? I think she'll keep quiet out of fear and her jealousy. Ultimately, her decision will cause a rift between her and Michael, one from which I'm not sure they can recover. What do you think Nikita should do? Come clean?

Carla Day is a staff writer for TV Fanatic. Follow her on Twitter and on Google+.

Tags: Nikita, Reviews
From Around the Web