Welcome to our weekly Grey's Anatomy Round Table!
Our official Grey's Anatomy review broke down Thursday's episode, "Dark Was the Night." Now, TV Fanatic staff writers Courtney Morrison, Sean McKenna and Christina Tran have gathered for a Round Table Q&A.
Come along as we further debate, discuss and dissect the goings on at Seattle Grace:
----------------------------------------
1. What was your favorite scene/quote from the episode?

Courtney: One name. Cristina Yang. Hands down. Sandra Oh has proven a thousand times that she is one of most talented actors on this show. Her silent reaction to the news that her dead patient was her mentor's husband was amazing. Raw and actual emotion. Loved it!
Sean: I completely agree with Courtney. I kept waiting for Cristina to find out about Henry and when she did it was a powerful scene. It was the perfect transition from calm and collected to broken and upset without having to use any dialogue. Fantastic.
Christina: Meredith: "I had a terrible day. We say it all the time; a fight with a boss, a stomach flu, traffic. That's what we describe as terrible when nothing terrible is happening." I can always count on Mer's voiceovers to sum up an entire episode and completely relate to what's going on in my everyday life.
2. What was the best case/cliffhanger of the hour: Teddy performing surgery without knowing her husband is dead, Meredith and Alex left alone with a baby and bodies, or Callie and Jackson's botched spinal surgery turned heart patient?

Courtney: Although I never expected for Mer and Alex to see bodies in the road when they exited that ambulance, I'm going with Teddy. The poor girl is all types of chipper while performing surgery and has no idea her husband is dead. I can't wait to see the fall out from this. Who will she blame? Will she pull an Izzie? I can't wait.
Sean: It's true, Teddy not knowing will probably have the most impact when the show returns and it'll be interesting to see who she blames or how she will handle it.
Christina: Like Courtney, I thought Teddy performing surgery without knowing her husband is dead was the best case of the night. I, too, can't wait to see the fallout and repercussions of what happened.
3. Now that the first part of the season is over, what was your favorite arc so far?

Courtney: Hmmm. Cristina has been hilarious in working towards her bucket list and Alex has been adorable trying to redeem himself. But I'm going with Meredith. She has grown so much over the past several seasons and has gone through so much. I have really enjoyed watching her interact with Webber, him taking the fall for the clinical trial and her dealing with the fall out from Bailey. Grey's got some guts now and it is one of the best parts of Season 8.
Sean: I continue to enjoy watching Alex attempt to redeem himself. I enjoy his scenes, whether he's acting like an ass or not, because it's obvious that he cares and he's passionate about his work.
Christina: Tough question. I've loved all of the storylines involving the original characters, but I've definitely appreciated Meredith and Derek's storyline the most. Although they received devastating news about Baby Zola, I'm hoping that their hopes of becoming a McFamily are far from over.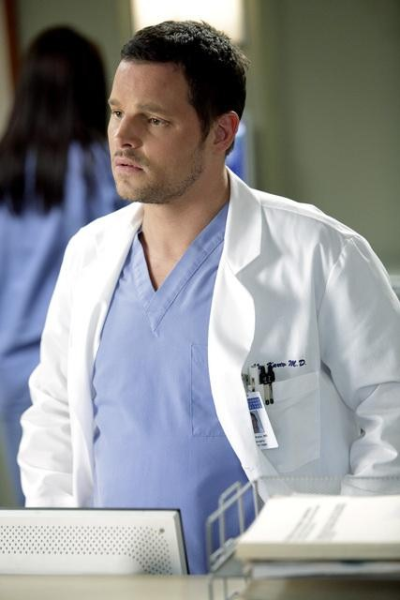 4. We are now nine episodes in. Who is the most underused character of Season Eight?


Courtney: Sloan! My answer is biased due to the fact that I would watch an hour of him just standing there, but he hasn't really gotten a good story yet this season. He has his bromances with Derek and Jackson, his daddy moments with Sophia, and a quick moment with a lady. This man used to perform insane surgeries and has the single most hottest scene on the series to date - McSteamy exiting the shower in a towel, anyone?

Sean: Lexie for sure. She's been kind of a background character and her only real storyline so far has been about her relationship with Jackson and Sloan. She needs something more to do than just worry about which hunky guy she can be with.

Christina: Lexie. Minus the most recent episodes, we've seen very little of L'il Grey. I feel like Slexie fans have been waiting patiently for some time and am ready for the best comeback couple to bring it. 

5. Give some predictions for the January return of Grey's Anatomy. Will you be able to make it until then?


Courtney: Teddy will learn that Henry is dead and will go off on Cristina and Owen. Meredith and Alex will be left out on that road for a long time and Alex will have to save the baby in that cute, underdog way he does. Callie will be put on probation for her spinal surgery and Lexie will try and get back with Mark (one can only hope)! One thing is for sure, January can not come soon enough.

Sean: Teddy might leave? I can see her taking out her anger and grief on all the doctors and driving a huge wedge between them. I don't see Meredith and Alex in too much danger and of course they'll pull off the miracle save. As for Callie and Jackson, someone is going to have to suffer some sort of repercussions for the botched surgery. All in all, there's still plenty of drama to keep this season from going under. January is too far away!

Christina: Once Teddy finds out that Henry is dead, she will blame Cristina. In turn, Cristina will be upset with everyone (especially Owen) for not letting her know that it was Henry she was operating on. Alex and Meredith will find a way to save the baby regardless of the circumstances. The medical board will investigate Callie and Avery's case while their jobs are in jeopardy. And will I be able to make it until then? I thankfully have my DVR which holds everything from doctors, vampires, ghosts, princesses, the UES, and more to help me stay alive.

What do you think? Share your responses in the comments below!

Tags: Grey's Anatomy, Round Tables