Psych made its best pitch this week. It swung for the fences. It threw a few curveballs at the audience. Point being: the episode was centered on baseball and featured a trip of fun guest stars.
Below, staff writer Chandel Charles has gathered a new quartet of fans - Kathy, William, Sarah Ann and Jamie - for another Round Table discussion, as they break down the latest antics from Shawn, Gus and company...
-------------------------------------------
What was your favorite moment/quote from the episode and why?
Chandel: Shawn and Henry arguing over his call at the game. It's been a while since we've these two engage in an all-out shouting match, but what made it even funnier was that Gus and Juliet were watching and providing commentary. It was a pretty entertaining way to begin an episode.
Kathy: When both Shawn and Gus were dressed as Sammy the Seabird! Gus is tap dancing and the crowd is booing, until he feels itchy in it and does the worm. Of course, teammates fight and then Gus goes out to the field, too. And then later, Shawn pretending to be Gus and saying: "You heard about Pluto."  I love that.  Even in Sammy the Seabird, Shawn has his "vision."
William: I knew this question was going to be asked so I re-watched the episode looking for a single moment I could call me "favorite," but I couldn't. Being a HUGE baseball fan, I adored it all, and having one of my favorite baseball movie managers, and a Hall of Famer, in it only made it better.
Sarah Ann: I'm a huge baseball fan, so the whole theme was a treat. When Shawn threw home plate and had the "Suck it" exchange with Henry, I couldn't stop laughing! It was great. My favorite line of the night had to be one of the best "Gus don't be..," one yet: "Gus, don't be Pete Rose's haircut".
Jamie: Probably at the end when the bad guy was holding a gun on Shawn and Gus, and then Cal showed up and the guy was still going to shoot them, and then Wade Boggs showed up and the guy finally said he can't shoot Wade and started to run away. Then Henry runs in from nowhere to tackle the guy. It was just such a typical, ridiculous, funny Psych scene.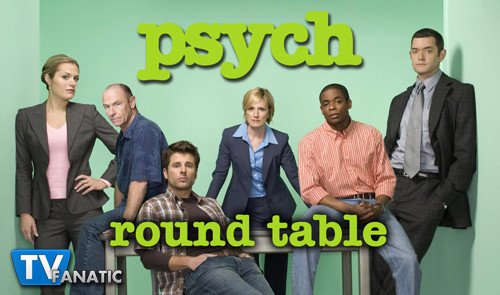 Are Henry and Shawn starting to get along?!?
Chandel: In my interview with Corbin Bernsen at Psych Fan Day, he indicated to me some definite development in Shawn and Henry's relationship would be taking place this season, so I think this might be the beginning of what's to come.

Kathy: Even though they argue whether or not Shawn was out at home plate or Henry felt hurt that Mel went to Shawn about the batting coach, Henry was sitting in the stands with Juliet. Henry was there to save Shawn, Gus, Cal, and Wade Boggs from the GM and said, "I really hate it when guns are pointed at you." Just like in the football episode in Season Three, they bonded for their love of baseball.  enry and Shawn are probably going to argue about cases but are growing closer as each season progress.

William: Seeing them take batting practice at the end of the episode was a nice way to end after the argument Shawn and Henry had at the beginning about the bad call. As hard as it is for me to say, I really think they are starting to get along better. And if that is the case, the writers need to give us a camping episode where Henry takes Shawn on a Bear Grylls type drop-off trip and the two stumble across a body.

Sarah Ann: Sports always seems to bring them closer together, for the most part, like in "Any Given Friday Night at 10 p.m., p.m. Central" where they bonded over football and we got to see Shawn in tight pants, but that's beside the point. With Shawn now being in a steady relationship with Jules and actually holding a job down for more than a few months, I think he has matured, which helps him have an adult relationship with his father.

Jamie: In this episode, it was like Henry was thinking of Shawn as more of an equal, or as more of his own man, even to the point where he saw him as competition. So I guess that means they're getting along better, or at least differently - it's more of a relationship between two adults rather than just as father and son.

Who played the Seabird mascot better, Shawn or Gus?
Chandel: As much as Shawn rocked Sammy Seabird for his brief stint, Gus really made it his own. From the macarena to the worm to the t-shirt gun, Gus was really going all out at all times.

Kathy: Gus. Hands down.

William: In the first thirty minutes,  I would have to say Gus, the goofy walk he had, and his tapping were hilarious. But I think Shawn stole the show with his Gus imitation, and the fact that he kept the costume on while he was snooping around was gold. So I say Shawn wins on a walk off home run.

Sarah Ann: I think they both did a great job. Since Shawn actually enjoyed being the mascot and did some awesome running, driving, hilarious impersonation of Gus and other stunts while in the Seabird mascot, I'd have to go with him.

Jamie: Shawn and Gus are both so adorably ridiculous in their own unique ways that it's hard to say which was a better Seabird. I loved Gus's "flea-dance," and I loved Shawn's "Gus-voice" equally.

Who was your favorite guest star (Michael Trucco, Danny Glover or Wade Boggs)?
Chandel: I loved seeing Michael Trucco, given the uncertainty of his future on Fairly Legal. But the fact we finally got to hear an iconic line from the Lethal Weapon movies spoken by Danny Glover really made his appearance a treat. Unfortunately, I am not a huge baseball fan, so while I can't fully appreciate his performance, props to Wade Boggs for recognizing what an epic show this is and signing on!

Kathy: Trucco. He allowed James to hug him when Shawn found out that he was called to play in Oakland. He played a character that you weren't sure if he committed the crimes Shawn thought he did.

William: It has to be Wade Boggs, Hall of Famer, 12-time All-Star, World Series champion. As Ed Lover would say "C'mon, son!!!"

Sarah Ann: Wade Boggs, He's a baseball legend! He also has awesome facial hair. He was quite funny in this episode.

Jamie: I loved seeing Danny Glover. It's just such a quintessentially perfect example of how the show ties itself back to the 80s. I thought Wade Boggs had more funny lines, though.

Do you have a favorite baseball team?
Chandel: Like I mentioned before, I'm not much of a baseball person. But I'm gonna give a shout-out to my Columbus Clippers and the Boston Red Sox, a minor and major league team, respectively, one of whom plays in my hometown, the other my college town.

Kathy: I like football way better than baseball, but I did like the shout out to the Pittsburgh Pirates, who I went to see this summer at PNC Park. The Pirates had great players like Willie Stargell and Roberto Clemente, but continue to struggle each season. 

William: I love all baseball teams, but I have been a super Rangers fan since I was two.  From Juan Gonzalez hammering balls out of The Ballpark in Arlington to Michael Young getting 2,000 hits, the Rangers are and forever will be my favorite team.

Sarah Ann:  My family has raised me as a GIGANTIC Atlanta Braves fan. They have been my favorite team ever since I could say Chipper Jones, who is my favorite player as well. It's such a classy organization and its players are great role models for kids. If I had to pick a minor league team as well, I would pick the Nashville Sounds because they're are my local club. 

Jamie: I'm not much of a baseball fan. I find other sports more entertaining. If I have to claim a team, I claim my city's squad, which is the Pittsburgh Pirates. Now, they were pretty good back in the day, but they've been notoriously awful for the past 15 years or so. The best part of all of this is that the Psych writers actually acknowledged that with a dig at the Pirates in the episode. My husband and I found that line particularly amusing.

C. Charles is a TV Fanatic Staff Writer. Follow her on Twitter.

Tags: Psych, Round Tables