TV Fanatic Staff Selection, Take 4: Troy and Abed for Most Dynamic Duo!
by Dan Forcella at . Comments
Who is television's Most Dynamic Duo? That's what we're asking readers to decide, and that's also the case taken up by various members of the TV Fanatic staff. So far, articles have been written that made the argument for...
Now, Dan Forcella is here to defend what has to be considered the funniest pair on television at least: Troy and Abed on Community. Take it away, Dan...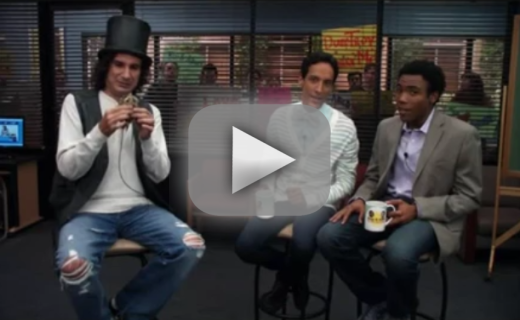 Troy and Abed are the most dynamic duo on television, but I'm definitely not shocked that they're currently behind in the poll. Only three million people are watching the show each Thursday, and NBC recently Britta'd its midseason schedule by somehow NOT including this sitcom on it.
Because there are still a number of you out there who haven't witnessed the genius of Community, and specifically this fine pair, I'm here to help.
When the series first started, Danny Pudi's Abed was a bit of a budding star, while Donald Glover's Troy lurked in the background waiting for his time to shine. As the second season came into development, the two characters began to hang out more, became fast friends and the rest is hilarious history.
Troy Barnes has become one of the funniest characters on television, and while Abed has dipped a bit since his novelty factor wore out, he still has his moments... most of which come when these two are together.
Whether it be their patented bro handshake, their numerous varieties of the fake Troy and Abed in the Morning talk show (above), or Troy's unbridled joy to be friends with his socially awkward pal, these two have given us some of the most laughs on TV over the past two years/
In "A Fist Full of Paintballs," when Troy jumps out of a trash can and sees that Abed is alive and well, his goofy grin of a reaction is priceless. It was easily one of the best comedic moments in television last season.

Oh yeah! And they recently gave us the amazingly joyful "Evil Troy and Evil Aaaaaaabed," and "Troy and Abed sewn togeeeeeeeether."

These two together are without a doubt the funniest and easiest to love duo on television. Whether or not that qualifies them as dynamic is up to you the voter. All I know is that among the following group, they have my vote! Do they have yours?!?
Poll is now closed! Here are the results:
Castle and Beckett - Castle

14.1%

Brennan and Booth - Bones

18.3%

Harvey and Mike - Suits

1.7%

Shawn and Gus - Psych

5.1%

Troy and Abed - Community

26.3%

Tony and Ziva - NCIS

2.5%

Emily and Nolan - Revenge

1.4%

Reese and Finch - Person of Interest

0.5%

Sam and Dean - Supernatural

14.3%

Dan and Chuck - Gossip Girl

2.6%

Rizzoli and Isles - Rizzoli & Isles

1.9%

Alaric and Damon - The Vampire Diaries

4.7%

Kensi and Deeks - NCIS: Los Angeles

3.4%

Max and Caroline - 2 Broke Girls

0.4%

Chuck and Sarah - Chuck

2.7%

Dan Forcella is a TV Fanatic Staff Writer. Follow him on Twitter.

Tags: Community, Commentary, Polls
Want more Community?
Sign up for our daily newsletter and receive the latest tv news delivered to your inbox for free!
More From TV Fanatic
Community lives! The sitcom will actually air Season 6 on Yahoo this fall.
It's that time of the year again. Who would we want to see nominated for Lead Actor in a Comedy?
Hulu has its eye on Community. Might we see a sixth season after all?
It's been a whirldwind week of television news. We try to recap all the cancelations in this gallery.
---