Bones definitely did not mail this one in.
As its title implies, "The Male in the Mail" featured a dismembered dude who turned up in boxes in a D.C-area dead letter office, where all undeliverable parcels go to ... sit there. You learn something every week.
More significantly for Booth, he received some surprising, devastating news that brought out a side of him we rarely see, prompting Brennan to step up and become the supportive, comforting, level-headed partner he needed.
There's a sentence I never thought I'd write, but it's true, and it made for the best episode of Season 7 so far.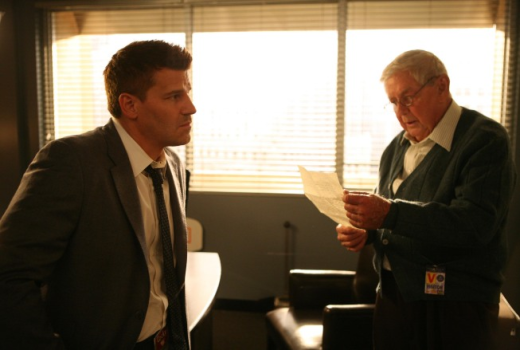 While the first three installments helped set the tone for the new normal between Booth and Brennan and the shift in their relationship since "The Change in the Game," last night Bones really hit its stride.
It's not that Brennan's lovable weirdness and pregnancy were non-factors (two growing factors in particular certainly played a role last night), but viewers weren't hit over the head with it quite as overtly.
Instead, it was inherent. She's pregnant, this is how it is and what she does. Spend the evening naked? NBD. Point being, her issues didn't even matter when Booth was leveled by the stomach punch of losing his father.
She was his rock. When Booth understandably tried to repress his feelings and simply move on instead of coping with them head-on, Brennan - just as understandably - didn't know how to get through.
Until she did. By urging her distraught partner to remember the good times he and his dad shared, however rare or fleeting, she succeeded where even Pops couldn't. Their relationship will be better for it.
If Booth and Brennan are going to truly gel as a full-fledged couple, they can't just joke about pregnancy and argue about houses (not that there isn't a time and place for those things). It has to be deeper.
What we saw Thursday was a sign that it will be. The conclusion felt completely organic and poignantly illustrated how much our favorite Dynamic Duo loves each other, no matter how haphazard their courtship.
Their physical chemistry is still there, even in the third trimester, but this episode marked an important milestone at which the emotional connection reached a high water mark for our partners in crime solving.
Is it dusty in here? We now pause from this B-squared love fest to discuss the work of David Boreanaz individually. He was terrific at conveying Booth's anguish - even when the point was Booth trying not to.
He was bitter, mournful and melancholy all at the same time. Unwilling to forgive, but unable to forget. Quite a range of emotions to display credibly in 43 minutes, and a great night for Boreanaz as an actor.

Before Brennan gave him what no one else could, Booth was comforted somewhat by (or at least resigned to) the fact that his dad was still Pops' son, no matter how flawed an individual he was, and is now dead.

There's no taking back what he did, so it made sense to remember the bright spots and let go of his rage. Opening the box with his father's Purple Heart and the old keepsakes really drove this home for Seeley.

I doubt there's a fan who wasn't moved by Booth's handwritten Father's Day card, or by the look on his face when he thumbed through the box and realized that even his least favorite person still loved him.

Fun fact: Game 6 of the 1980 World Series did in fact take place at Veterans Stadium in Philadelphia, with the hometown Phillies winning the title. Living in Philly at the time? An 11-year-old David Boreanaz.

The episode also featured a number of fun guest stars, most notably Ralph Waite, who at 83 still turns in great appearances as Booth's grandpa and Gibbs' dad on NCIS (as TV progeny go, he hit the jackpot).

There was also the always-enjoyable Tina Majorino, who returned as Booth's FBI colleague Genny Shaw and ended up learning a valuable lesson from her idol at the bureau, even in his flustered state.

Booth impressed upon an eager Shaw that the true meaning of teamwork isn't delivering the final piece of the puzzle, but setting one's ego aside, and having someone's back through thick and thin.

This was an interesting side plot in that the vanity aspect to law enforcement isn't often explored, but clearly exists as it does everywhere else. Genny's heart was in the right place, for the wrong reason.

I also got a kick out of seeing former Boy Meets World star Ben Savage as a murder suspect (gotta love Bones' casting department) and enjoyed Eugene Byrd as squint Clark Edison in this episode.

The discussions of Brennan's chest were a bit overdone, but he's a great sidekick for Hodgins. Both seem to relish that lab partnership, and it's one that we'll hopefully get to see again before long.

Watching Hodgins and Clark absolutely loving life during the investigation made the case more fun to watch on a night when it could have been a complete afterthought, considering Seeley's turmoil.

The smoking gun(s)? A tape gun. And a bone fragment not belonging to the murder victim, and a pair of buns pressed against a copy machine, and some psychedelic mushrooms. Trippy stuff.

What did you think of this week's Bones? Comment on it below!

Steve Marsi is the Managing Editor of TV Fanatic. Follow him on Google+ or email him here.

Tags: Bones, Reviews