"Loyalty" seemed like an unknown concept in the Hamptons this week, as plots for payback, blackmail and Revenge spun out of control.
Emily set up her enemies to devour one another, but some plans were more successful than others. Let's run it down, shall we?
Mr. Miyagi bails. I know his name's really Mr. Takeda but every time he appears on screen I have flashes of the Karate Kid movies. I found this part of Emily's story a little absurd. So poor little Amanda was sent off with social services but was somehow sent to Japan and apprenticed with this guy for her lifelong goal of revenge?!? I'm generally willing to suspend my disbelief for a good plot but this one may have taken it too far.
Nolan and Mr. Takeda appeared to be the angel and devil on Emily's shoulders, although calling Nolan an angel is a bit of a stretch. He wants her to get in touch with her emotions and live the life her father wanted for her. Takeda claimed her emotions would lead her to nothing but failure.
With her mentor gone, will Emily's heart begin to break free? Is there any chance she'll decide that love is worth more than revenge? Nah. I don't think so.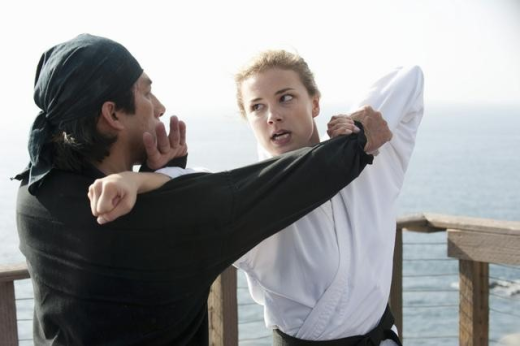 It just happened? That was Amanda's explanation to Emily about coming clean to Jack concerning her counter identity. Oddly enough, Amanda got Emily's blessing to stick around, but only because she saw a way to use Amanda to her advantage. 

I began to feel more for Amanda this week. She was lost and looking for attention. Unfortunately, Jack was so lonely he bought her story without question. We all know this won't end well. Jack Porter is once again destined for heartbreak.

Advice taken. Declan did the right thing for his own future as well as Charlotte's. Jack's advice was correct: If he wants any shot with Charlotte, he needs to make something of himself, although that $25,000 check could have helped with that college education.

Every time Charlotte runs to Daddy, I grow more convinced that David's her real father. It's such a fun, devastatingly good twist that I've got my fingers crossed it turns out to be true.

With Charlotte at her dad's, Daniel made his way back to Victoria where he let it slip that the real Amanda Clarke was back in town. I can't wait to see more of Victoria's reaction to that news.

Letting the snakes devour one another. That was Emily's plan. She leaked Nolan's sex tape to Daniel knowing it would start a chain of events that put Tyler and Conrad in one another's crosshairs. 

Conrad's a powerful man but Tyler's equally morally corrupt and he's now an unmedicated schizophrenic. In case you missed it, Tyler was searching for his empty prescription for Clozapine. A quick Google search showed that the drug is used by schizophrenics, specifically those with a history of harming themselves. 

So if I'm right, Tyler's now under intense pressure and is off his meds. What could possibly go wrong? Well, if you saw the promo for the next episode then you already have a clue. Unfortunately, we'll have to wait until the new year to get our answers. Enjoy your holidays, Revenge-free... if that's possible.

C. Orlando is a TV Fanatic Staff Writer. Follow her on Twitter.

Tags: Revenge, Reviews
Want more Revenge?
Sign up for our daily newsletter and receive the latest tv news delivered to your inbox for free!
More From TV Fanatic
Scott decides to get tough on Teen Wolf after rescuing his Beta by declaring he won't sit back and watch more deaths. Find out what else went down in the review!
Heather and Tamra consider making peace with Shannon on The Real Housewives of Orange County. See what went down in our TV Fanatic review!
On Murder in the First, the trial of Erich Blunt reaches its conclusion. But what is the verdict? Find out when you read the review.
Andi Dorfman chooses between Nick Viall and Josh Murray. Find out who she chose now on our The Bachelorette review!
---