Desperate Housewives Review: Making Like Samantha
by Christina Tran at .
Another week, another mediocre Desperate Housewives episode.
It's the final season and I feel like I've been waiting for an epic installment all year long. Maybe the writers are saving the very best for last because tonight's episode just didn't cut it for me. Call me crazy, but I feel like we deserve so much better as longtime viewers and fanatics.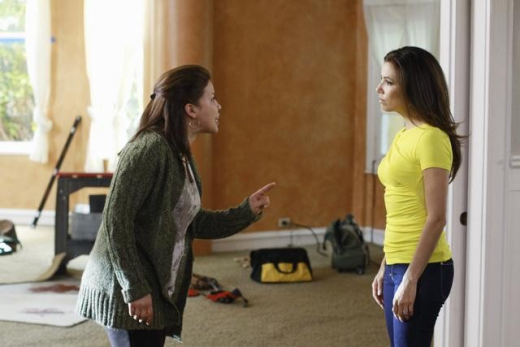 It was certainly raining men for Bree as her alcohol consumption continued to heighten. From one night stand to another, it felt like she was somehow channeling Samantha Jones from Sex and the City.

Mrs. McCluskey couldn't help butting in and tattling to Reverend Sykes. Although I was glad to see the man of religion, Bree simply was not. I know that Bree's storyline was meant to be a fun one, but I couldn't help feeling underwhelmed and just sad that she was turning to alcohol and random men. It just wasn't Bree.

However, I'll admit the bake sale scene was definitely interesting. As onlookers stared in awe, Bree might as well have been wearing a scarlet letter.

By the way, what happened to her stalker from last week? Are we supposed to just forget about that mysterious lurking stranger? Also, could this person be connected to the unexplained notes that Bree received?

I also didn't care much for Lynette's storyline. With Tom still in Europe, Lynette went on a date with Renee's hairdresser. I had a feeling she would somehow manage to ruin it, but I didn't think it would end that badly. From creating five-year plans on a cocktail napkin to providing constructive criticism, Lynette was simply at her finest.

Meanwhile, I was definitely surprised how Ben's proposal to Renee ended when he came clean about why he was actually trying to put a ring on it. It's nice to know that he didn't have the heart to deceive Renee, but he's still clearly hiding something about his project. With a briefcase full of cash in tow, what do think Ben is up to? Is he putting both Mike's family and Renee in danger?

Elsewhere: Claudia showed up at Susan's doorstep wanting to know where the heck Alejandro was. In the midst of Claudia accusing Susan of having an affair with her missing husband, MJ made a rare appearance. Soon after, Gaby realized that she needed to clear things up and wanted to talk to Claudia about Alejandro.

I laughed out loud when Susan asked Claudia how she found her home, and Claudia sarcastically called her a "genius" for giving her a check with her address. Then, Gaby was talking about her clueless behavior and actions as she had trouble dealing with her guilt. Nevertheless, Susan's heart is always in the right place, and I was glad she reached out to Marisa again.

It was heartbreaking when Gaby revealed what Alejandro did to her as a teenager. My heartstrings were tugged even more as Marisa broke down in her mother's arms. It was such a sincere and touching moment that felt so incredibly real. Thanks to both Susan and Gaby, these two will hopefully be able to move on and get past what happened.

I almost thought that the Alejandro arc would all be over until Claudia made the remark to Gaby about the red wine and carpet. Maybe she has no idea, or maybe she got a disturbing vibe there was more to Gaby's story. Will we ever know? It's probably unlikely.

So, what did you think of "What's the Good of Being Good"? Do you love the new Bree? Will Ben find a way to make it up to Renee? Is it finally safe to believe that Alejandro's death will forever be a secret now?

Tags: Desperate Housewives, Reviews
From Around the Web