Private Practice Review: There Was Blood... Everywhere
by Christina Tran at .
Roughly an hour has passed, and I'll admit I'm a little shaken up after tonight's intensely horrifying Private Practice.
Honestly, I am still trying to wrap my head around everything that happened and thinking that Shonda and company seriously know how to deliver a crazy dramatic episode.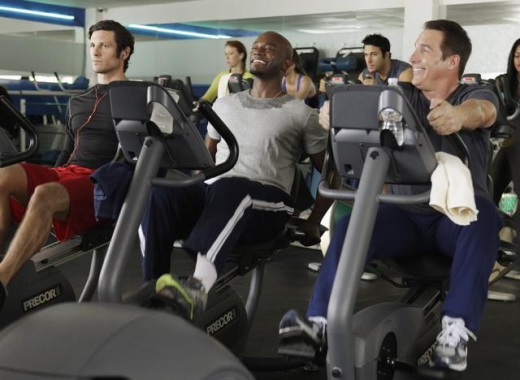 First off, I think I speak for all of us when I say that Violet ought to move out of her home immediately. There has been far too much bloodshed on those wooden floors. If it were me, I'd already have my bags packed and would be checking listings frivolously.

Typically, I find myself thinking that storylines in dramas can seemingly be too predictable. This was certainly not the case for Joanna and David. However, I did expect that David would show up at Violet's doorstep.

I also knew it was a terrible idea for Violet to try to get in the middle and nurse Joanna back to health at her own home. What was she thinking? More on that later, though.

When David shoved his way into the house, I was definitely shocked that he punched Violet in the nose. Then, I was flabbergasted when the scene cut to Joanna violently stabbing David to death repeatedly as he was clearly dead already. There was blood... everywhere. By the way, did anyone else catch that smirk on David's face?! Creepy.

I couldn't help but to shudder as I felt like I was watching a horror movie. It didn't feel like the typical Thursday night TV. It was gruesome, brutal and obviously written for shock value. I certainly think the writers succeeded, if that was their goal. I was left terrified. How about you?

With the way that events concluded, one might wonder if things would have ended differently if Violet had taken what Joanna said about wanting to kill her husband more seriously the first time around. Also, should the doctors have tried harder to intervene or simply let the police investigate? Did Joanna act out of self defense in that moment?

Elsewhere: I wished that we would have gotten to see how Erica broke the news of her illness to Cooper. It was tough to watch Erica contemplate what she should do and how she should live her last few months.

With the Grey's Anatomy crossover episode in the near future, we know that the doctors of Seattle Grace will give it their all to try to save Erica's life. So, there is still time for her to change her mind. What do you think will happen for Erica to come around? Also, do you believe that she will make it?

Meanwhile, Jake and Addison were on a mission to find Addie a surrogate. Even Amelia volunteered her services which Addie declined, telling her that she needed to find out who she was. Soon after, Addison realized that she simply needed a break from all of the baby stuff and wanted to focus on absolutely anything else.

I again appreciated all of the subtle Jaddison moments. Even when they were in disagreement, I could still see the sparks fly. Still, I can't help but wonder what Sam wanted to say to Addison as Jake appeared suddenly.

My favorite scenes in this episode involved the guys spending time together discussing where and how to find women. From working out at the gym to creating online dating profiles, these scenes gave us a chance to laugh a bit in a heavily dramatic installment. Both Sheldon and Sam were kind of cute and funny.

Last week's episode received a staggering 0 on the Violet Annoyance Scale (VAS). How did this week's episode fare? I'm rating it a 3.5. Don't forget to leave your rating in the comments.

Sure, Violet was just trying to be helpful throughout the entire episode, but I just wished that she'd take a step back and not put herself in the middle of her patients' issues. She is still a wife, friend, and, most importantly, Lucas's mother and ought to think twice before getting involved. This is not the first time something has hit so close to home for her and put her in a very dangerous situation. When will she learn?

Did you enjoy "Losing Battles"? It's been one heck of a season for Private Practice so far and this episode was definitely entertaining and another solid one for the books.

Hit the comments below and check back early next week for the first ever official Private Practice Round Table! Yes, you read that right. Get excited!

Tags: Private Practice, Reviews
From Around the Web