The Office Review: Nobody Calls Me Chicken Fight
by Dan Forcella at .
There were bits and pieces of each story that worked in "Pool Party," but neither Robert's stroll through parties never had, nor Erin's endeavor to make Andy jealous, came together to make completely funny or interesting tales.
What we were left with was yet another decent episode of The Office in which there were a number on things to laugh at... in which one couldn't help but feel it lacked th humor and creativity of what the series used to be.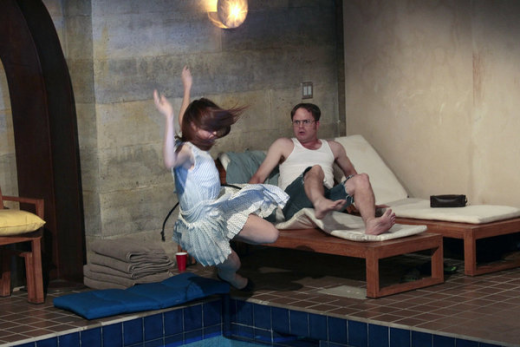 The one piece to the puzzle that worked really well was Dwight and Erin completely getting after it in their attempt to make Andy jealous. The receptionist going 110% in the final game of chicken, squeezing Dwight's neck until he became unconscious and in danger of drowning, might have been what the writers thought would be the icing on the cake.

Instead, it served as a letdown, an unfunny ending to an otherwise hilarious pairing I never would have imagined. When Dwight puts his mind to something that is outside his normal range of actions, it's usually comical. In this case, him flirting with Erin - whether it be sexy eating, telling Andy he's gonna go crazy on her with sex, or saying to Erin "I could just bang you right now" in hopes of Andy hearing him - was easily the best part of the episode.

The problem with this part of the pool party was the man those two were attempting to make jealous. Nothing about Andy worrying over, and searching for, his lost engagement ring was funny. It was just boring. Oh, and sad. It was also sad.

Thankfully, Kevin chimed in with a couple of good moments, like wasting no time to jump at the opportunity to be the chicken fight partner of Pam's replacement, or telling Val that wondering Daryl can't swim is racist.

In the rest of the giant house, I was banging my head against a wall. Wait no! That was just what I was doing while watching the story going on in the rest of the house.

I thought maybe Robert California had turned a corner. At Dunder Mifflin, when he was telling everyone about his issue with this giant house, he got dark. It was a mean darkness that Robert portrayed when he got up close and personal with Jim for laughing at the boss's misery. This could have worked. If Robert wasn't going to be as crazy as he was when we first met him, maybe he could be awkwardly mean.

But that turned into self-pity as he took a number of employees on his tour of the mansion. This wasn't a funny self-pity, but a boring one. It didn't help that Jim reverted back to that guy that wanted to have no fun what-so-ever. There seems to be a direct correlation between the fun Jim has on the show, and the amount of fun the audience has while watching.

What might have been an attempt at humor in Jim valiantly trying to leave the party, turned out to be more and more frustrating each time Jim didn't just leave or shut up to the camera about wanting to leave. Get the heck out of there, enjoy the wine like Oscar, or aggressively fight for Robert's affection like Ryan and Gabe.

That was the lone bright spot from this side of the party: Ryan and Gabe and their need to fit in with their boss. Just like in "Garden Party," when they kept on toasting and re-toasting Robert, the efforts that these two will go to in order to be Robert's equal, is fascinating. But like Dwight losing consciousness, this story also ended strangely and with no laughs. Nobody wanted to see those three strip down and go for a swim.  

So while some of "Pool Party" worked really well, The Office's continued inability to figure out what to do with Andy Bernard and Robert California, and the inconsistency of Jim Halpert's happiness, hurt the overall satisfaction of the episode.

What did you all think?  What was your favorite moment from "Pool Party?"  Did either story line work for you this week?  And most importantly, which Dunder Mifflin employee would you want on your team for a chicken fight?

Don't forget to check out all the best lines in our The Office quotes page and sound off in the comments!  

Dan Forcella is a TV Fanatic Staff Writer. Follow him on Twitter.

Tags: The Office, Reviews
From Around the Web