Cassie Blake is digging her darkness, but our Secret Circle critic didn't respond as enthusiastically to this show's 2012 premiere last Thursday.
Jump in below as TV Fanatic staff members Matt Richenthal, Eric Hochberger and Steve Marsi analyze various developments from "Darkness," looking behind, ahead and everything in between...
-------------------------------------------
What was your favorite scene from the episode?
Matt: It didn't involve special effects or play a major role this week, but Melissa finally standing up for herself - by standing against Faye. We need to see the supporting characters developed more and this was a worthy first step for at least one of them.
Eric: How is this even a choice? Cassie busting out of that coffin!
Steve: Cassie's eerie speech to Diane at the close of the episode. Could you have imagined, when The Secret Circle started, that Cassie would actually possess evil, dangerous traits? AND that she'd embrace them? Me neither. I'm intrigued.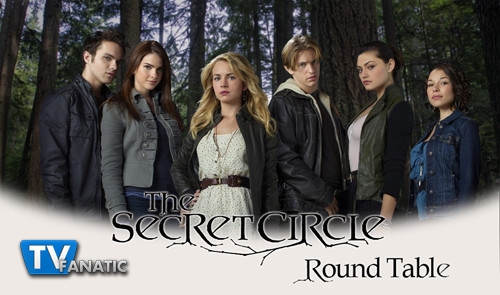 Can we trust Grandma Kate?
Matt: Can we, the viewers? Sure. Can Cassie? Not at the moment. Even if Diana's grandmother has the right intentions overall, it's unclear how she'll use Cassie to get there. Stay away, girl.

Eric: Absolutely not. Never trust a grandma that looks that young. Or one uses the cliche of trying to test powers as an excuse for a failed attempted murder.

Steve: Yes. Unlike Eric, I am not a cynic. Why question Kate's explanation to Charles? There's clearly some serious scheming going on with the elders, so why not believe that Kate just needs to know for certain who she is dealing with when it comes to Cassie?

Can Faye trust Lee?
Matt: I'll find out tomorrow when I interview Grey Damon! Return to TV Fanatic later in the week for the answer! How is that for a shameless plug?!?

Eric: No way. That guy is as sleazy as the fake doctor giving mammograms. It was all just an excuse to get to draw a pentagram on her boobs.

Steve: Let's see: if runs a crappy website, he works out of his parents' garage, he doesn't really shave. So... sure! The guy sounds more lazy to me than shady.

Are you excited for Jake's return?
Matt: Definitely. Jake didn't give us a lot the first time around, but I believe there's a lot more to the character. More importantly, the entire concept of witch hunters raises the stakes and offers any number of directions for the show to go in.

Eric: Just read my facial expression. Oh, wait, we're on the computer. So I'll help you visualize: it's showing absolutely zero emotion. Much like Chris Zylka's.

Steve: Yes. We need an outside force to intersect with Cassie's internal, dark one. And Jake offers a connection to the witch hunters, who, as Matt said, give the show the chance to integrate new characters and new storylines.

More boneheaded move by Adam: Searching online for "dark magic" in the Circle's clubhouse or choosing to apologize to Cassie specifically when she was staying over with Diane?
Matt: The Internet search killed me. Would that house even have wi-fi? Would he really not have heard Diane come in? What sort of information did he expect to learn online anyway? It reeked of a lame plot device to move the story forward by outing Cassie's secret to another coven member.

Eric: What guy wouldn't want to break into their slumber party?!? He'd be a bonehead not to find an excuse to throw a couple rocks at that window. Now the real boneheaded move was by The CW. They had a perfect shot to shill for Bing while dumb-dumb was searching.

Steve: The apology to Cassie, no doubt. Talk about being insensitive to Diane! In this age of texting, why couldn't he have just picked up the phone? A few words and a smiley-face emoticon later and it's all good!

Matt Richenthal is the Editor in Chief of TV Fanatic. Follow him on Twitter and on Google+.

Tags: The Secret Circle, Round Tables