Welcome to the 195th Gossip Girl Caption Contest at TV Fanatic, where readers submit their best caption(s) for a photo from the CW drama! Ready to see who came away the winner this week?
Your Caption Contest winner, using a pic from "Crazy Cupid Love," is Unkindness.
Congratulations and nicely played. The winning entry appears below the photo. Honorable mentions go out to Ace, ashley turner and Kami. Thanks to all for playing and good luck next time!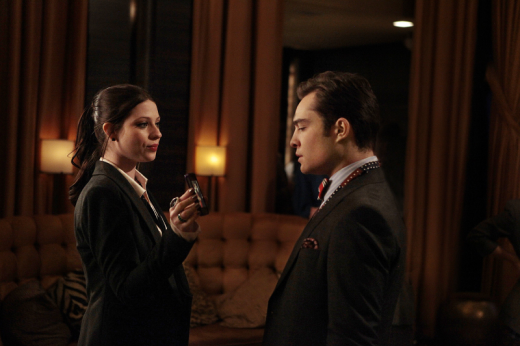 Georgina: I recorded your first time. That's right, that crazy night with me... all eight minutes of it. I'm sure you don't want the Princess seeing that on GG! So just do what I want.
Chuck: And what would that be?
Georgina: Well, I've heard all about how you've improved, and I'm just not that into my husband, so ...
Chuck: Just post the video.

Steve Marsi is the Managing Editor of TV Fanatic. Follow him on Google+ or email him here.

Tags: Gossip Girl, Caption Contests