"I Helu Pu:" The Reckoning
To the dismay of Lori Fan Club such as myself, it's official: she's gone. It's also official: I'll miss her, as it seemed Lori had finally found her niche in the last few episodes.
Granted, Lori's "confession" to Steve that she had let things slide due to her feeling for him felt completely contrived. I was rolling my eyes throughout the exchange. There was no need to make Lori suddenly have a half-ass confession of attraction because was leaving. It didn't add anything.
That disappointment aside, this was one of the best episodes of the season. The use of the commercial breaks to show the current events for a bit, then switching to "what happened" works really well for this type of story.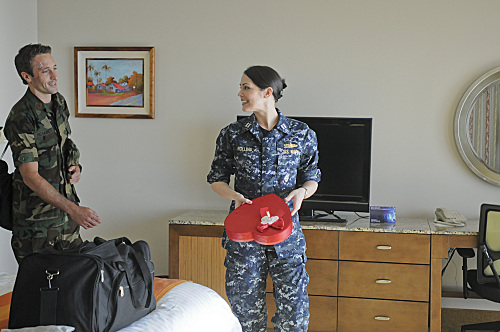 I was also glad to see Catherine Rollins (Michelle Borth) back for a visit. Given that Combat Hospital was officially cancelled in December, I would love to see more of Borth on Hawaii Five-0. Besides, it's nice to be reminded that Steve was (and still is) in the Navy, and he has ties there. Given that we never see him mention his reserve status, it was refreshing to see a mention of this reserve duty and seeing him in uniform only strengthened my budding man-crush.

Speaking of the service, having served in the Air Force for two tours in the 90s, even today I'm critical on how actors wear uniforms. Both O'Loughlin and Borth appear to have been coached on how to done the uniform correctly, so I want to give a nice crisp military salute to whoever helped them look good - well done!

The episode also marked the third attempt to tie in a holiday into the story. With the Halloween outing, we suffered through one of the worst episodes ever. Then, with the advertised Christmas episode, we had footage in the preview showing Christmas elements that never made it to air.

So, like Goldilocks trying the beds of the bears, the first was too hard, the second was too soft, and the third one was just right! I really enjoyed the light overtone that Valentine's Day had here.

Chin Ho discussed getting something for his new bride with Kono. Danny made a quick reference to Gaby (from the museum) and, as mentioned above, Steve decided to do his reserve duty on the same ship as Catherine to celebrate Valentine's Day properly. The only person who didn't seem to have much of a Valentine celebration was Kono.

Do you want to bet that Denning puts a new person in with the team and it's a guy that can crush on Kono? It would be such an awesome twist. Of course, it's not hard to crush on Kono; did you see her in that dress? Wow. 

Here is hoping that the episodes continue in the caliber of this one. My only request is could we not have every suspect take off running? Or, if that's not an option, we need to make up a drinking game based on the number of times a suspect runs from Five-0. That, of course, would generate a second game of seeing how coherent my review is when written complete drunk. Sounds like fun, no?

Jim G. is a TV Fanatic Staff Writer. Follow him on Twitter.

Tags: Hawaii Five-0, Reviews