Justified Review: The Cadillac of Beans
by Dan Forcella at .
The bad guys turned on each other two weeks ago in "Harlan Roulette," and it happened once again in "Thick as Mud" when Layla shot Lance before getting gunned down herself by a tranquilized Raylan laying in a bath tub.
In no way is Justified returning to the Elmore Leonard school of writing for villains too much, but if even if the series continued to use this style over and over again, it would be okay. It's extremely entertaining.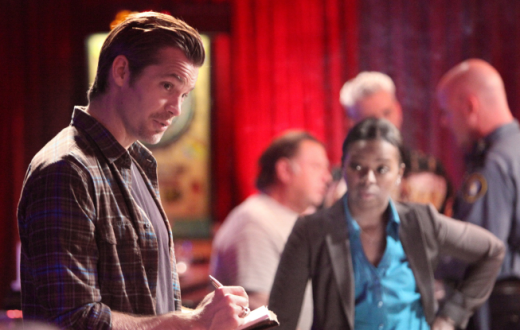 Call me gullible, but I'm surprised every time.  Just as it was revealed - obviously or otherwise - that the two nurses were working together, one knocks off the other with a bullet to the back? That doesn't seem normal, so when it happens, I'm taken back by it, and excited to see what will happen next.

This week, in an unsurprising event, Raylan saved himself from the crazy woman by shooting her in the chest through the body of her victim. It might not have been the most bad ass move Raylan has ever done, but everyone was certainly shocked that it actually worked. Including Raylan.

Fortunately, how we came to that ending point was through an interesting and fun series of check points along the Dewey Crowe wild goose chase. My hypothetical big, white, cowboy hat is off to Damon Herriman, who was fantastic in playing what his character thought were "the end times for Dewey Crowe."

He showed us fear. He showed us desperation  And he showed us comedic chops with one of the funniest lines of the year. You mean I had four kidneys? It doesn't get much better than that.

Well, that is, unless you are talking about a certain meeting between a southern gangster and a carpetbagger from Detroit, because when Quarles and Boyd Crowder sat down to chat, my eyes were glued to the screen.

It wasn't quite the epic confrontation I was expecting. The mutual respect Quarles and Boyd showed each other was surprising in some ways, but it also made a lot of sense. They both recognized each other's intelligence, skills, and power.

Quarles recited a quote. Boyd knew who had once said it. Later Boyd uttered a different quote. Quarles knew who had said it. There are a lot of intellectual similarities between these two, and they could make a pretty formidable pairing.

While I agree with Quarles' statement that they would make much more money as partners than they ever would as rivals, I don't think anyone should trust Quarles enough to go into business with the guy. Stay away, Boyd. Keep doing your own thing, and let the carpetbagger attempt to make a dent in Harlan County without you.

While all of this was going on, Mr. Limehouse has quietly had a mole on the inside. She witnessed Boyd's interaction with Quarles' man, Tanner, and reported it back to Limehouse.  Like Erica Tazel told me in an interview a few days ago, it seems "we are on a collision course for sure." I can't wait.

But what course is Raylan on? He mentioned to Art that when lying in the tub waiting to get sliced open, he thought about changing professions. More importantly, what was in that note he read at the end? Winona's farewell?

"Thick As Mud" was another great episode in Justified's thrilling third season. What did you all think of the hour? What was in Raylan's note? What will happen between Boyd and Quarles? And what did you think about Limehouse still having the $3 million?

Dan Forcella is a TV Fanatic Staff Writer. Follow him on Twitter.

Tags: Justified, Reviews
From Around the Web