Julian joined forces with Dan Scott, Chris Keller found out about Tara's indiscretions, and we found out who is holding on to Nathan in "Catastrophe and the Cure."
Now our panel of Nick McHatton, Miranda Wicker, Brian Shure, and Dan Forcella are here to discuss those topics and more in the latest installment of the One Tree Hill Round Table.
Read their answers to the questions below, and then leave your own in the comments!
-------------------------------
What was your favorite moment from the episode?
Nick: I like when all of the characters' story lines begin to intersect, and everyone banning together to help get Nathan home reminded me of the High School Tree Hill days when they were all together.
Miranda: I am no fan of Dan Scott, but damn, I want to high five him sometimes. Favorite moment goes to Dan in the interrogation room putting the cop in his place. No one insults stupid things like Dan Scott.
Brian: Dan Scott stole the show this week. My favorite moment was when Julian tried to join in on Dan's plot to find Nate. The interactions between the two of them, as well as the jokes Dan made at his own expense, were classic.
Dan: As great as Dan was throughout, my favorite single moment from the episode had to be Chris Keller taking Chase with him to the strip club to get over the fact that Chase was sleeping with his girlfriend.  Classy move.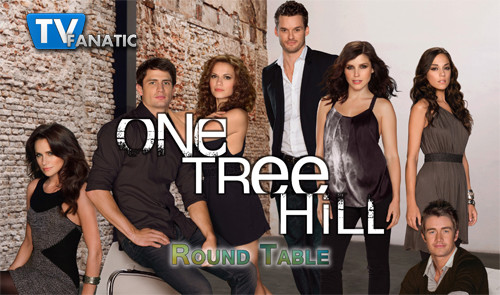 Nathan is kidnapped by hired guns of European basketball team owners.  Disappointed?

Nick: Yeah, this story line is pretty boring. I like that Nathan is doing everything he can to buy himself time, but his captors are comically bad.

Miranda: Disappointed is the understatement of the year. This is the dumbest kidnapping storyline in the history of storylines. Ever. Nathan goes to Europe to scout and sign players and Shakespeare-quoting Eastern European henchmen follow him BACK to North Carolina to kidnap him? All because of the seedy underbelly of Eastern European basketball?? REALLY, OTH? I liked this story line way better when Dan was behind it.

Brian: A little disappointed by the weak storyline, however not disappointed at all that I was right about Dan.

Dan: I'm very disappointed.  I couldn't agree with Miranda more about these guys coming all the way to North Carolina.  Why?  Well, so that our friends could save him, of course.  Dan wouldn't have the time over the next few episodes to save Nathan if he were kidnapped in Europe.

Better dynamic duo this week; Dan and Julian?  Or Chris and Chase?

Nick: Chris and Chase, they're a lot of fun to watch together. The kick-in-place-of-a-punch was hysterical, and somehow they made their way back to the strip club to ease Chris Keller's pain.

Miranda: Y'all, Chris Keller says Chris Keller has a best friend! And it's Chase Adams! The Chris and Chase bromance is hilarious to me. From Chris Keller's "You make me want to be a better man" speech to the two in the strip club, I'm loving this duo.

Brian: Been a big fan of Chris and Chase over the last few weeks, but I have to go with Dan and Julian on this one. The old Dan Scott is back, except now he's using his powers for good instead of evil. And Julian is like a lost soul along for the ride who needs some sort of escape from his life right now. The bond they share of parenting issues is quite humorous.

Dan: Dan and Julian were great, but they don't share the same bond as Chris Keller and Chase.  Those two guys are best friends!  It shows in their love for each other at the strip club!

Will Clay ever get over his problems?  If so, how?

Nick: I believe he will, and the little boy will be the key.

Miranda: I'm with Nick. He'll get over it, and while I don't know how, I know that somehow the little boy will be the answer. I mean, how, exactly, does one get over fugue states? I also have two theories surrounding Clay and the little boy that I'll throw out for discussion. 1) Clay's fugue states mean that he's somehow responsible for Nathan's kidnapping, and 2) He'll adopt the little boy at the end of the series.  

Brian: Clay has been a touch more tolerable the last episode or two (Logan was a nice addition to his story), but I really could care less at this point about his problems.

Dan: It's taken way too long, but yes, he'll figure this thing out at some point.  Yeah Logan will most likely be a help in getting Clay over his fugue states, but how?  Will Clay adopt him like Miranda thinks?  Or is it actually Clay's kid, which he blocked out after his wife's death? (commenter on my review mentioned)

Spoiler Alert. Lucas Scott is coming by next week. What's your favorite Lucas memory?

Nick: When he and Brooke got a little too drunk on their first date he ends up getting a tattoo.

Miranda: When Lucas tells Peyton she's the one he wants next to him when all his dreams come true.

Brian: Tough one. The one that will always stick out in my mind was when he botched those free throws at the end of a game.  It was against his better judgment to make himself part of a scandal, but it was to help out Nate.

Dan: The best thing about this question is that it led me to searching YouTube for "Best Lucas and Brooke Moments."  What did I find?  Lucas walking up to Brooke with a bunch of guys on the beach and saying "I'm the guy for you, Brooke Davis."  1) He was an absolute stud for doing so, and 2) As a big time Brucas shipper, I thought it was going to lead to everlasting happiness for this couple.

Dan Forcella is a TV Fanatic Staff Writer. Follow him on Twitter.

Tags: One Tree Hill, Round Tables