Private Practice Review: This One's for Team Jaddison
by Christina Tran at .
Private Practice took a break last week, and the series returned with the drama we've desperately grown to love this season.
If you are on Team Jake, it's likely that you were thrilled with this installment. I, for one, definitely enjoyed every second of Jaddison. It was nice to see the fun and drunken side of Addie versus the super baby-focused one. Their chemistry was absolutely undeniable, and their scenes were my favorite part of "The Time Has Come."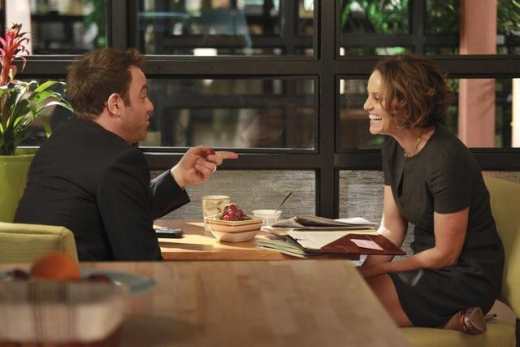 There's just one thing, though: Jake, the gentleman - graciously and not surprisingly - turned down Addison when she wasn't entirely in the right state of mind. He also believes in opening doors and being the driver. He seems like an amazing guy, but I'm starting to wonder what the catch could be. Is Jake truly flawless?!? Surely, there's got to be something wrong with him, right?

By the way, how funny was it when Addison woke up looking like a hot mess? I couldn't help but laugh and swoon as Jake knew exactly how to take care of her.

Back at the hospital, Erica and Mason were involved in an accident after Erica suffered a seizure and blacked out at the wheel. Ultimately, Cooper finally convinced Erica to fight for her life for Mason.  

Do you think that the adults will eventually tell Mason what's going on with his mother? Is it better to prepare him for the worst or would telling him only make him worry more?

Meanwhile, Sheldon helped an army veteran experiencing PTSD reveal to his wife that he was secretly sexually assaulted. It was certainly an intriguing storyline that involved Sheldon struggling with the differences in between male and female rape victims.

As expected, the wife was shocked and confused by her husband's actions. I was grateful that Sam helped her to see that she couldn't possibly blame her husband for something that wasn't his fault. Luckily, the wife was able to see clearly with Sam's help and returned to her husband's side.

Elsewhere: Pete was totally getting on my last nerve. He was being ridiculously annoying about Violet and her new boy toy, Scott. Even Sam recognized that his buddy was being a total hypocrite and jerk when he called him out about his one night stand. 

Their separation was a mutual decision, and Pete ought to respect that. I'm betting that many of you would like to rename the Violet Annoyance Scale the Pete Annoyance Scale. The thing is, I thought they were both irritating, with the latter possibly scoring an off the charts rating.

I'm rating tonight's installment a TWO on the VAS. For the most part, Violet didn't do much but listen to Pete whine and give her crap about her new relationship throughout the duration of the episode. However, I was frustrated when she said that Pete let her walk out the door by not stopping her. As their relationship separation continues to spiral out of control, they both need to quit blaming each other.

On another note, it's nice to see that Violet finally put her peephole on the front door to use. Also, I'm hoping that Scott and Violet didn't get too far in the living room and that they moved their business to the bedroom because there's simply been way too much bloodshed in that room.

So, what did you think of "The Time Has Come"? Are you optimistic about Jaddison or do you think Sam deserves another chance? What would your VAS and PAS ratings be?

Tags: Private Practice, Reviews
From Around the Web