"Babes in Toyland" seemed more like babes in the woods.
We just witnessed Naomi Clark dressed in a latex Catwoman-style sex suit in what may have been the only highlight of what was otherwise one of the more turgid 90210 episodes so far this season.
The promise of bad girl Jen back on the scene fizzled out because it seems that Paris has turned Jen into more of a flat souffle than the hot tarte she used to be.
Back in town with baby Jacques in tow, at first it seemed she was around to stir up trouble. Alas, all she was looking for was love and a baby daddy. Neither of which panned out.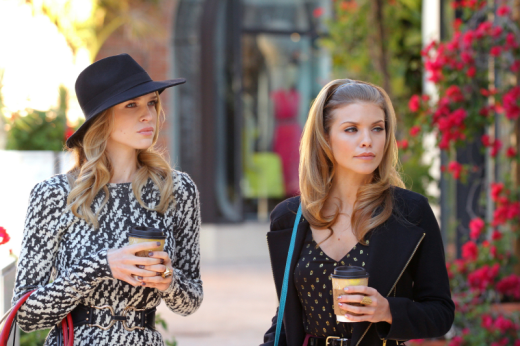 Naomi rented out a sex shop and landed the big ticket client Naomi Clark Events needed. But it was Jen's flirting with - and eventual blackmail of - married Mr. Paddington that gave Naomi's start-up the boost it needed.

Loved that Naomi had to break into the sex shop and wear that latex suit she claimed to be allergic to. Is there nothing that girl can't wear and not look amazing in?

Of course, the minute Naomi swore off men and claimed to be channeling all her energy into her career she accidentally met future soulmate number-27 in Preston Hillingsbrook.

And will anyone please explain how Annie can continually meet rich guys? All of a sudden in business with Hillingsbrook because she bought a $40,000 bag without looking at the price?

Was it wrong of me to think of this as another boring storyline for Annie that was sheer torture? Although balloon archery did look like fun.

Silver was psyched to have gotten accepted into NYU until Dr. Negative Nelly's breast cancer chat bummed her out. Poor girl, after having had such a rough year she just wanted to be excited about her future.

Meanwhile, the doctor just brought her down with her droning on and on about family history this and death before 30 that. Genetic testing can do that to you.

Elsewhere, Vanessa showed her true conniving colors by sending Adrianna and Dixon on a fake meeting with the VP of A&R of Def Jam while she stole their movie producer audition.

But really, how stupid were those two? A meeting at a coffee house in Echo Park with a big time record exec? Adrianna should have listened to Dixon's advice: don't quit your day job.

And all of a sudden Liam was a major movie star with a trailer because Vanessa worked what her mama gave her and "influenced" the big time movie producer?!? Of course. Doesn't it always work that way in Hollywood?

Ivy continued down "bad girl" road and became further involved with the local gang of street artists. And the attraction to Street Guy finally boiled over. Like we didn't see that coming.

But does anyone out there really care about Ivy's new Raj-lookalike street boyfriend? Do we care if Jen intends to stick around and bore us all with her quest for acceptance and love? And will Liam ever stop acting like a block of wood?

Guess we'll have to wait until next week to find out.

Tags: 90210, Reviews