With daycare, organic wipes, dead bodies, extreme couponing and new romances involved, you knew it would be another fun-filled forensic hour on Bones this week with "The Bump in the Road."
I had a feeling the episode was going to be good the minute it started with Booth holding Christine while Brennan packed her baby bag for daycare. If there's one thing I like more than seeing Brennan pregnant with Booth fussing over her, it's seeing these two as parents.
How funny was it to find out what lengths Booth and Brennan had gone to to make sure Christine was in good hands? Booth used the FBI database to request the daycare directors transcripts, while Brennan practically blackmailed her into sending a photo of Christine every half hour!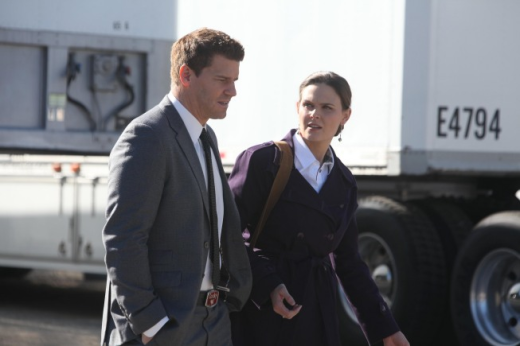 Perhaps my favorite scenes were the ones in which some member of the Jeffersonian team commented on how beautiful their daughter was, and Brennan constantly asserted that she was going to be beautiful and smart when she was older, and Booth, ever the proud parent, just kept saying "Look at her!"
Christine has got some high expectations to live up to. But if there's one thing we can know, it's that she will likely meet or exceed the high standards of her parents.
That said, it seems Michelle had a bit of a run-in with Cam's dating standards this week. Did anyone else not expect that Michelle and Finn would hit it off?
It's not that I don't love the idea to death, I just wouldn't have entertained the possibility of it. I really liked Finn as a character when he appeared earlier this season, so I'm more than happy to have him back.
Other highlights from the episode:
Brennan texting the daycare director a picture of the dismembered body.
Booth and Brennan stopping to pick things up at the store in the middle of arresting a perp.
Learning about the dangers of extreme coupon-ing.
Learning Agent Shaw is a mom with a three-year-old named Danny.
Brennan becoming an emotional mess over missing Christine while she's at work.
Brennan vowing to sneak Christine into the lab.
So, are you a fan of the new Finchelle? Do you have a better shipper name? Let us know in the comments along with your thoughts on this episode in general and all things Bones!

C. Charles is a TV Fanatic Staff Writer. Follow her on Twitter.

Tags: Bones, Reviews
Want more Bones?
Sign up for our daily newsletter and receive the latest tv news delivered to your inbox for free!
More From TV Fanatic
What can fans look forward to on Bones Season 10? We tracked down Stephen Nathan and Emily Deschanel to find out!
It's select ensemble vs. elite in a dance rematch this week on Dance Moms. Who came home with the victory? Read on to find out!
On tonight's Tyrant, Jamal and the Sheik meet for negotiations. Will they come to an agreement?
It's time to reunite on The Real Housewives of New York City. Read all about this special episode now.
---