Did you enjoy Glee's blast to the past/look into the future this week?
On "Saturday Night Glee-ver," the fortunes of three seniors were decided... in between a spinning disco ball, a competition of white suits and leaked sex tape, that is. Come along now as TV Fanatic Round Table panelists Matt Richenthal, Miranda Wicker and Steve Marsi breakdown the episode...
-------------------------------------------
What was your favorite scene from the episode?
Matt: None really stand out, so I'll go with the bevy of Brittany quotes from the week. That poor, toddler's fist's sized brain...

Miranda: Jesse St. James as neurotic coach of Vocal Adrenaline. I just wish he hadn't cut his hair because now he looks like a mini-Will Schuster.

Steve: Call me cheesy, but the Finchel scene at the end got me. Acting school seems like a reach for Finn, of course, but I do like how they've drawn out the potential problems for these two and how they now seem to be happily resolved.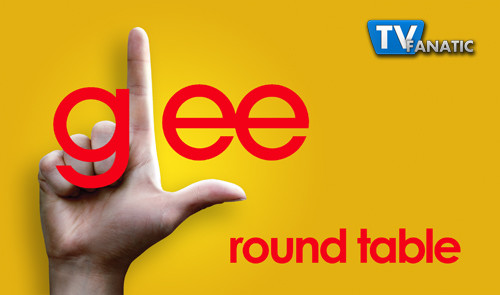 What was your favorite song from the episode?
Matt: I never like it when episodes simply start right away with a performance, but I can't punish the performance itself for that. So: "You Should Be Dancing."


Miranda: Jesse St. The Vocal Adrenaline performance of "Boogie Shoes." Alex was awesome in that number.


Steve: Gotta go with that classic closing number. How can you NOT choose "Stayin Alive?!?"

Is acting school the right choice for Finn?
Matt: Of course not. Why can't he just, you know, go to college? Many universities, including my alma mater, don't even require you to declare a major until your sophomore year at the earliest. I know it's a crazy notion, but go to school and find out what you actually like to do/study before committing to a profession with which you have no experience and whose odds are heavily stacked against success.


Miranda: At this point, is there a wrong choice for Finn? Acting school's about as good a choice as any other he could make.


Steve: I've pretty much given up on season three. So Finn as an aspiring actor in New York City next season, alongside Rachel as a hopeful Broadway star? Sure! Bring it on.

What did you think of the debut of Alex Newell as Wade/Unique?
Matt: Random? Underdeveloped? Boring? Pick a negative adjective and it probably fits for me.


Miranda: I loved it. Yes, it felt a little rushed, but I know he's only got two episodes. Of all the contestants on The Glee Project, he always seemed the most natural fit for this show to me.


Steve: Strong, at least compared to some other recent Glee Project contestants. I like him better than Joe (Samuel Larson).

What would you title a Santana and Brittany sex tape?
Matt: Cheerleading 1-oh-oh-oh-yes!-1.


Miranda: Two Girls, One Cat? (Ewww. Just typing that makes me shudder.)


Steve: Flips and Foreplay: A Different Kind of Pyramid

Tags: Glee