Having offered up many Grey's Anatomy season finale spoilers already, Shonda Rhimes has now confirmed the biggest yet: Someone will die in the upcoming eighth season finale. A "beloved character" no less.
But who?
"A lot of our writers were crying, which is a very rare thing," she tells TV Guide of the May 17 event. "There's some really shocking, horrible moments." How bad are we talking about? Worse than the mass shooting?
"Yeah, it is," Rhimes promises. "People's mettle is going to be tested."
Writing the eighth season finale, titled "Flight," was sheer "torture... I've been sitting with my head in my hands for days. I understand the choice I made, but it scares me how the fans are going to react."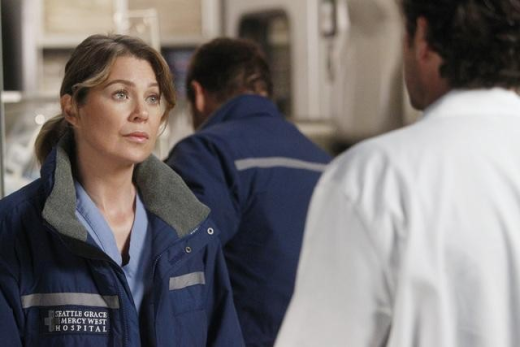 Rhimes recently quoted Kurt Vonnegut, Tweeting, "Be a Sadist. No matter how sweet and innocent your leading characters, make awful things happen to them - in order that the reader may see what they are made of."

That quote, Shonda says, gave her "the courage to do what we're doing in the finale."

The drama begins in the May 10 episode, "Migration," with "a case that takes a group of our people out of the hospital" for "the medical case of their lives," says Rhimes, hinting that the patient could be one of their own.

And there's this: May 10 will also feature Derek and Meredith's dream house. Rhimes originally planned for the season to end with the couple watching it burn to the ground, but "I was not ready to do that."

Instead, the dream house is being constructed and is "quite beautiful. I feel like this is the moment for it, since Meredith and Derek are having a debate about their future. I just hope we can use it next season."

Rhimes' hopes the cast's contract status will remain secret heading into the finale, where "The lives of our people should be a concern ... A lot of choices are made in this episode that change people's futures forever."

Still, after killing off George in 2009, she says "there are certain characters on this show that you can't kill. It wouldn't be acceptable not only to the audience, but to me and my vision of what this show is. They can't die."

Someone will die, however. Who do you think it is? Sound off with your predictions for the season finale, the future of the show after this season and all things Grey's Anatomy below!

UPDATE, 5/2: We now know a handful of doctors who are safe ...

Steve Marsi is the Managing Editor of TV Fanatic. Follow him on Google+ or email him here.

Tags: Grey's Anatomy, Spoilers