As Cougar Town begins winding down towards its season (hopefully not series, I'm staying positive) finale, "Southern Accents" begins moving the final pieces in place for the characters.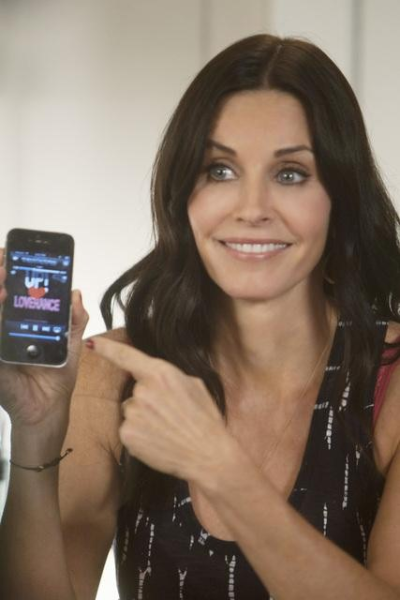 The three main stories keep pushing the characters along, as this season has done so well already. Andy thinks about running for Mayor, Bobby and Laurie try to get to the root of his racism problems and Grayson and Jules try to work on a way to fold Holly into their lives.
I fully support Andy as Mayor if only because he can supply a "come on!" in some kind of campaign speech. Plus, giving Ellie some semblance of power is the best thing that could ever happen. If her list of demands is any indication, the entire town is in for a world of Ellie, and I couldn't be more thrilled.
Not only that, Ellie would need to interact with people, and, well, that's gold too.
Laurie and Bobby working on his racism seems like a rather odd character flux for Bobby. I don't see him as a racist. Bobby is a very sweet, nice man, and while he's not the sharpest tool in the shed, he's never cruel and mean. Plus, his lover is Latino.
However, as odd as the character change is, Laurie's solving of racism, and her reason why, probably won the night in terms of quotes:
Laurie: If there's anything we've learned from Michelle Pfieffer in Dangerous Minds, or Sandy Bullock in The Blind Side, or Hilary Swank in that movie nobody ever saw, is that all you need to fix minority problems is a really pretty white woman. | permalink
See more of our favorites at our Cougar Town quotes page.

It's one of the aspects of Cougar Town that I love. The long drawn out bits that aren't always the funniest in the moment or look like they aren't leading to anything funny or enlightening in particular, and then the show pulls the rug out from under you and lays a quote like Laurie's that makes the bit worth it.

It's not the easiest thing to do when comedy, by its very nature, has to keep things moving and people laughing before they check out from boredom, and it takes a certain level of trust on both sides to do.

Finally tonight, there's Jules and Grayson. I love Jules, and her neurotic obsessing over Travis and Holly hooking up and making sure to make use word of day. Super-lative, anyone? And while Travis' hooking up with Holly is sort of odd, I can't help but wonder if this is a subtle hint by the show that Travis isn't a kid anymore, he's going to potentially hook up with or date women older than him. Which means he could potentially try something with Laurie.

Sidebar aside, I love this collective family that has begun forming, and watching Jules, the mother hen, welcome Holly into her home with a glass of wine is a wonderful cap on the episode.

Well, other than the pig trial, and I would totally watch that show.

Nick McHatton is a TV Fanatic Staff Writer. Follow him on Twitter.

Tags: Cougar Town, Reviews