Hawaii Five-0 Review: Ending With A Bang
by Jim Garner at .
"Ua Hala:" Death in the Family.
I have to hand it to Peter Lenkov, he certainly knows how to shake things up and give us a dramatic ending to Hawaii Five-0's sophomore season while still leaving a few hooks for us to come back to in the fall... without ending entire story on a cliff hanger.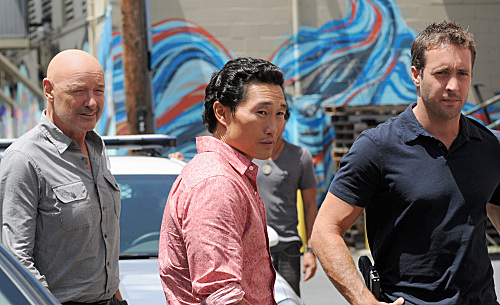 Before we get into the exciting things, I have to mention something that really bugged me and detracted from the overall story: how Max got shot. In what reality would the cops have not completely roped off both ends of the alley before the coroner was called in? And assuming that it was a breach in protocol that caused it, why would Hilary (the shooter) still be in the alley if she was mobile enough to outrun Steve and the rest of Five-0? 

Okay, that convenient story-plot aside, a lot of big things happened and I will just run them down.

Shelburne is Steve's Mom: While it doesn't appear to be the complete end of the Shelburne story, watching Steve's reaction and him saying "Mom" when the door opened was awesome. I was glad that the "reveal" we had in January turned out to be a fake. Besides, after it was discovered that the real Shelburne had not been revealed, I called it being his mom!  

I'm curious what this means for Joe White. As Steve and Joe seem to have buried their differences, will we see Joe again? Will Joe continue to move Shelburne? Did Wo Fat let himself be caught to bait out Shelburne? 

Goodbye Captain Fryer: I will admit that Tom Sizemore as Captain Fryer has grown on me over the season, so I am sad that he was killed off. That being said, I stand by my earlier comment of seeing too many Haoles in important roles and I really hope that we see more Samoan or Hawaiian (looking) actors in positions of authority next season. 

Frank Delano Released: While the commercial break from Kono going into her house to Chin Ho signing out Delano confused me for a few minutes, Baldwin's portrayal of Delano was great. It's not very often that I want to reach into the TV and slap someone, but Delano made the list this week.

Chin Ho has to pick, Kono or Malia? As mentioned above, Delano was exceptionally nasty and to make Chin Ho decide who he wanted to save was the icing on the cake. Correction: Chin Ho getting home and the audience realizing that Delano went back on his word was the icing on the cake. What a real scumbag! I'm looking forward to Chin Ho catching up with him next season.

As for Kono and Malia themselves; Malia opened her eyes, so there are good odds she will survive and Kono spends a lot of time in the ocean, I'm feeling confident she can swim "dolphin style" and get her head back above water. Given that she was on the phone with Adam when we last saw her, maybe he realized something was wrong and will end up saving her. 

Did anyone catch Kono's teasing him on the phone about "playing with duct tape is wrong?" Clearly she has forgiven him for tying her up last week. 

In conclusion, it was a good season. I'm look forward to this fall when the show returns, as we know we are gaining at least one new regular cast member. What did you think of this season? Are you looking forward to Season Three? 

Jim G. is a TV Fanatic Staff Writer. Follow him on Twitter.

Tags: Hawaii Five-0, Reviews
From Around the Web