Wes and Travis traded wardrobes on Common Law this week.
And while it is unclear whether or not they acquired a better understanding of each other's psychological state, "Role Play," at the very least, gave each an opportunity to see how they're perceived by their partner.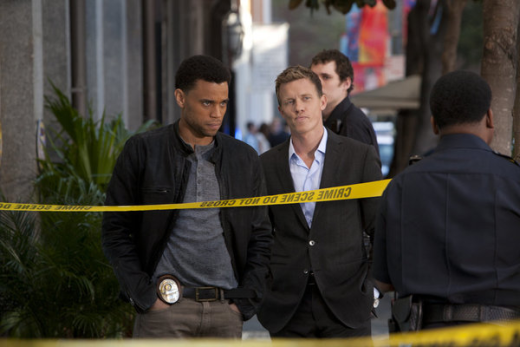 If breaking a champagne glass and busting into an under-the-radar gambling establishment with Rebecca Black's "Friday" blaring in the background didn't imitate Travis in the most accurate way possible, then I have no idea what does!
For Travis, buying an additional suit to replace the one damaged in the process of preventing Kevin Boyd's suicide, while still maintaining he owned more than one suit, only put Wes to shame.
These two were dead set on harassing the other into admitting to the accuracy of the portrayal of the other.
What we probably learned as an audience is that we simply like Wes as Wes, and Travis as Travis. That's the lesson these two learned this week, though grudgingly, as they accused Dr. Ryan of "trickery."
This "trickery," however, may have led them to what Dr. Ryan referred to as a significant breakthrough in their relationship. Do you agree?
While this episode lacked significant complications in terms of plot, the straightforward delivery of their homework for the week in conjunction with the rather complicated circumstances surrounding the death of their victim, Common Law took a decidedly less complex psychological tone than last week's "Performance Anxiety." I will admit that I was kind of sad at the lack of follow-up on their quest for 400 cases, and thought maybe it would be revisited this week, but, alas, it was not.
Highlights from the episode:
Travis faking a textbook knowledge of the law.
Wes blaring "Friday" in the middle of an underground casino.
Wes thinking he got them into that casino with his flirting, when it was really Travis' discreetly revealing his badge.
Wes messing up Travis' desk in protest of its cleanliness.
Travis having to have the price tag cut off his suit.
Foreshadowing the episode conflict as a conflict over what music should be listened to in pursuit of a suspect.
Wes gingerly pulling up next to the 101 Highway entrance and waiting for the perps to come to him.
Wes appearing at the station dressed as Travis. (Why did that cotton shirt look so much tighter on him than they do on Travis? lol)
How will we ever make it through the two week hiatus?! Common Law takes a break next week for the holiday, but returns on July 13th to an episode where Wes and Travis will share custody of a dog.

So, TV Fanatics, do you think these two can handle it, or will they find themselves in the dog house with each other and Dr. Ryan?

C. Charles is a TV Fanatic Staff Writer. Follow her on Twitter.

Tags: Reviews, Common Law