"The Price You Pay" was another fast paced episode of the new Dallas.
As such, our Round Table team of Jim Garner, Dan Forcella, Sean McKenna and Christine Orlando have strapped in and done its best keep up with all of the twist, turns and treachery. Can John Ross trust his Daddy? What did you think of the return of Cliff Barnes - and where the heck was Sue Ellen? 
Join in with your answers below...
-------------------------------------------
What was your favorite scene?
Jim: I enjoyed JR's comment to the Venezuela partners about how you can learn a lot from a man's friends and enemies. Except his enemies would be very hard to find. Ironically two of his biggest rivals were sitting together when he got to South Fork, so turns out, really not that hard to find after all.
Dan: My favorite scene was when Christopher figured everything out in the lab, mostly because he sounded so ridiculous. Jesse Metcalfe doesn't play the brilliant kid all that well, which made it hilarious to watch.

Sean: J.R. pulling the blade on John Ross. The guy may care about his son and show it in funny ways, but an action like that screams "Don't mess with me. I'm the one pulling the strings." Wouldn't have it any other way.

Christine: It was just a small moment but I loved when J.R. admitted to Annie that he grew up hating Bobby because he felt Miss Ellie loved him more. There was so much truth in that moment. J.R.'s such a badass but deep down there's still that little boy jealous of his little brother.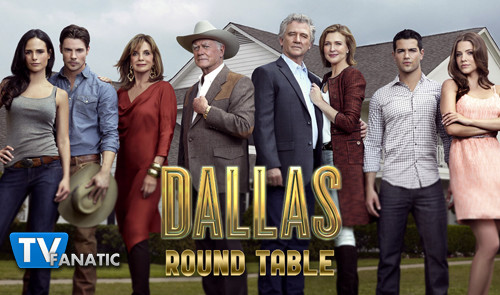 Should Christopher have taken Cliff's money?
Jim: Cliff had a great point, why not keep the profits/investments in the family. Had I been in Chris' shoes I would take the money so I could finish my patent. He is family after all, even if he isn't a Ewing.

Dan: Who is this Cliff guy? Am I missing a lot by not having watched the original series? Was he a major player in first Dallas?

Sean: No, and I'm glad he turned him down. I know that Christopher needs the money but he'll find another route to do so.

Christine: Oh, Dan. Perhaps I should send out a Dallas tutorial for newbies. Cliff Barnes was Bobby's first wife's brother. There's massive amounts of Barnes vs. Ewing history here. The moment Cliff threw out the line about how Christopher will never be a real Ewing, I knew walking away was the right call.

Was it smart of John Ross to team up with his father?
Jim: Best move he's made. JR is truly the master, he got the Venezuela partners down 1% without even warning that he was going to renegotiate. I'm glad that Annie and Bobby are smarter than JR gives them credit for. Maybe they can figure out how to keep South Fork before it's too late.

Dan: Only time will tell, but from what I've seen so far, I don't think there's anyway John Ross doesn't end up getting screwed over by dear old dad at some point.  He might win in the short term, but a J.R. doesn't change its stripes, and John Ross will end up regretting his decision.

Sean: There's so much backstabbing on this show it's deliciously fun. Does John Ross have a plan that can outwit his father? Maybe, but I've got a feeling J.R. will prove to still have what it takes to be the king of conniving. We'll see how long their team up lasts.

Christine: Yes, it was smart to team up with Daddy. John Ross can learn a lot from the old man but that doesn't mean J.R. won't screw him over at some point. Of course that will be a learning experience too.

What will John Ross do with the information about Rebecca?
Jim: She is in for a world of trouble as I'm sure he will use it to blackmail and manipulate her. Poor Rebecca just decided she wanted to be a good guy too!

Dan: Yeah he is going to do his best to get whatever he can out of her. She really needs to cut it out with this going half way business. She needs to be a ruthless con woman, or the dutiful, honest wife. She can't keep going back and forth like this. It's going to hurt her time and time again.

Sean: Blackmail her of course. He's going to use her until she offers nothing important any more. Information is power.

Christine: So we all agree. John Ross will use the information to his advantage and that means he'll keep Rebecca twisting in the wind for quite some time.

With whom is Christopher really in love?
Jim: Rebecca, the fact he stopped halfway through the first kiss with Elena and then told Rebecca right off the bat what happened shows that she is very important to him and that he loves her. Don't get me wrong, he still has some unresolved feelings for Elena, but his heart is on Rebecca (for now).

Dan: Does it matter? It's going to be fun watching him go back and forth on this subject almost every episode over this season and seasons to come.

Sean: I don't really know. Essentially both girls have had relationships with him that we haven't gotten a chance to see, so I think on some level there's feeling for both of them. Let's see this love triangle dance.

Christine: I'm not really sure. Both, I think and that's what makes it so much fun.

Did you miss Sue Ellen?
Jim: I did, I thought that was who was calling Elena for lunch when she ended up meeting Rebecca. In just the third episode, I would have expected at least a mention of her from someone.

Dan: Who?!?

Sean: Not really. The people who really provide the entertaining focus of the show are front and center. Plus, she'll be back to pop in again I'm sure.

Christine: I like Sue Ellen but I barely noticed her absence because this show is so full of great characters. That said, I'm sure we'll be seeing more of her soon.



C. Orlando is a TV Fanatic Staff Writer. Follow her on Twitter.

Tags: Dallas, Round Tables