The Ewing clan returned once more last Wednesday and the message is clear: the fight for Southfork is far from over, as evidenced in"The Enemy of My Enemy."
Is Elena in danger? Why is J.R. going after Cliff? Is there a new Ewing heir on the horizon?
Our TV Fanatic Round Table Team of Dan Forcella, Sean McKenna, and Christine Orlando are joined this time around by mega Dallas fan James from SoapChat's Dallas Forum. Read on and share your answers in our comments section below.
-------------------------------------------
What was your favorite scene?
Dan: I love hearing Bobby Ewing preach values. An eye for an eye just makes both people blind. He's so wise.

Sean: Bobby throwing that great punch. Stay away from Annie!
James: I really liked the one with John Ross and Bobby. There's a real crackle between those two actors. John Ross's visit to Sue Ellen was good too, even if it seemed heavily edited (as do a lot of Linda Gray's scenes). I'd love a JR/Christopher confrontation one of these days.
Christine: I agree, James. I love the scenes between Bobby and John Ross. When John Ross quipped, I just never pegged you as the type to have his wife do his bidding, I couldn't help but smile because that definitely got under Bobby's skin.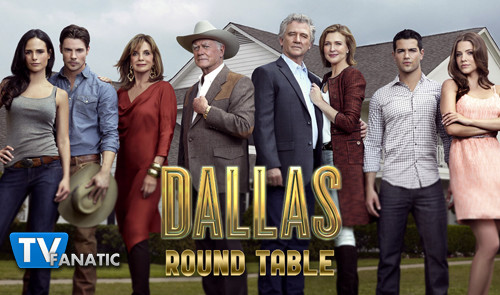 Any guesses on what hold does that necklace has over Annie?
Dan: It's the last remaining thing she has of her mother's.  Why her ex-husband had it in his possession I'm not sure.

Sean: It's probably sentimental to her, as in it maybe belonged to someone close to her at some point. But who?

James: No idea, but no one's been that upset at Southfork since Miss Ellie trashed the kitchen after Jock died.

Christine: It's definitely something serious. I never expected her to crumple in tears like that. My guess is that it belonged to someone she loved very much who died. A child perhaps? There's certainly a story there and I'm wondering if Bobby knows what it is.

Will Christopher take Rebecca back now that she's pregnant?
Dan: I've seen this one too many times, so I will say yes.  It's too bad, because I was loving his attitude towards Rebecca.  He just completely shut down everything she did.  No matter what it was, he thought she was lying or deceiving. Rebecca: "Hey Chris, Doritos are on sale at the Kroger."  Chris: "No!  She's lying!  Don't believe her Dad!"

Sean: That's a hasty answer but the pregnancy certainly changes everything. It will be interesting to see how they handle that story line.

James: I guess so. The Ewings do love an heir. (However, my first thought when she had that nosebleed was "Uh oh - alien cancer." That's what happens when you have Mitch Pileggi in the cast.)

Christine: Okay, Dan. I can't stop laughing at your Doritos line; and, James, I always love an X-Files reference but the simple answer is yes. Christopher's not about to walk away from his child and Rebecca will use it to get him back.

How much trouble will Marta cause for John Ross?
Dan: A bunch!  I have no doubt that she will make an attempt on Elena's life. It probably won't do any serious damage, but it was a treat to watch go down.  The suspense in this week's scene - when John Ross found the knife in the picture - was fantastic. My heart was pounding like no other waiting to see what would happen.

Sean: This is Dallas. Nothing is ever easy, so, yes, Marta is going to wind up being a real pain. But John Ross also knows how to be one too so maybe he can get back on top in the game.

James: Maybe she'll try and kill him. Or maybe someone will kill her - there'd be enough suspects for a decent whodunnit. Or maybe she'll do what Jill Bennett did to his Uncle Gary on Knots Landing, i.e. kill herself and make it look as though he did it!

Christine: In true soap fashion I'm betting she'll go after Elena and then Marta will end up dead, leaving John Ross with a murder charge hanging over him.

Why is J.R. so fixated on knowing what Cliff Barnes is up to?
Dan: Because he's a crazy old man caught up in issues of the past. Get over it, J.R. Come back to Dallas and cause trouble over here!

Sean: J.R. is J.R. and he wants to know everybody's business and be one step ahead. No matter who stands in his way, it's clear that J.R. will get what he wants.

James: Someone smarter than I suggested he might try win Ewing Oil back from him at the roulette table.

Christine: J.R. is like a cat with a mouse when it comes to Cliff. He just can't let it go. I have no doubt that he's looking for a way to get Ewing oil back.  He'll get it back or die trying.


C. Orlando is a TV Fanatic Staff Writer. Follow her on Twitter.

Tags: Dallas, Round Tables
From Around the Web