Pretty Little Liars Review: Stolen Hour
by Teresa Lopez at .
Seriously? A whole hour devoted to cracking into Maya's website, and all we got were some way too intimate videos of Emily and Maya?
"Stolen Kisses" had the unfortunate luck of following two very strong episodes (especially last week's), which made its slow, meandering pace seem all the more annoying. There are still four more weeks until the Pretty Little Liars season finale, and it looks the writers needed a filler episode for this week's installment.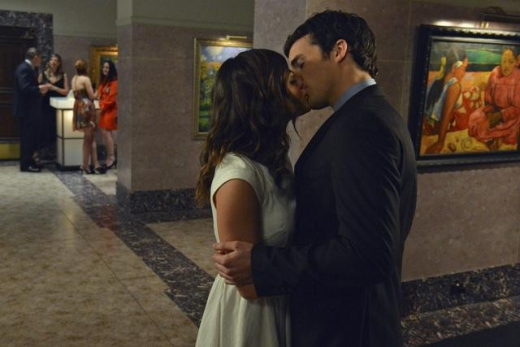 The biggest drama of the evening involved Aria meeting Ezra's mother and finally figuring out why he doesn't talk about his family much. Ezra comes from money... a LOT of money. So much that his grandparents had a whole collection of priceless works of art that they just kept around their house. We knew that his mother's initial kindness to Aria wasn't going to last, and she didn't hold back when it came to scaring her off.

What sucked most about Mrs. Fitzgerald's comments was that they weren't completely untrue. Ezra and Aria's relationship has caused a lot of problems for both of them. It certainly didn't break up Aria's parents, but it did help expose the irreparable cracks in Ella and Byron's marriage. And Ezra has taken quite the hit in Rosewood since openly dating Aria.

Ezra's financial difficulties could be easily solved by his family's money, but he doesn't want to be associated with them in any way. After that scene between Aria and his mother, I'm not surprised by his standoffish attitude towards his loved ones. However, it does make me wonder how far he would go to avoid asking them for help.

What is the source of his mysterious new income?

While Aria is nearly scared off by Ezra's mom, Emily takes a huge step towards moving on with her love life. As she tries to apologize and explain the whole drugs-in-the-flask thing to Paige, Emily's surprised to find out that she stopped by Paige's house the night she was drugged. And Emily kissed Paige. At first Emily is confused by what happened, and Paige feels guilty about taking advantage of her that evening. But eventually, Emily realizes she wouldn't have smooched Paige that night unless she really wanted to.

That's a pretty safe bet in this situation, but it's kind of dangerous for show targeted to teenagers to send the message that being drunk just exposes the things you want to do deep down.

Emily's attempt to move on with Paige might reach a speed bump when she finds out what Spencer found on Maya's website. It seems like Spencer is the only one truly dedicated to investigating Garrett and the pesky little A problem. Luckily, she has some help from Caleb (and a little from Aria, I guess). Caleb breaks into the website, a task which takes pretty much the whole episode.

And what do we find on this super secret website? Maya's personal video journal. There was certainly enough on there to make Spencer uncomfortable and to renew Emily's grief when she sees it. BUT where was the information that "Maya knew?" Was it really necessary to make us wait another week to find something we could use to unravel the mysteries of the show?

The episode really stalled the forward momentum of the series, giving us very little to go on and answering zero of our questions. We found out part of what Emily did that night, but it didn't tell us anything about how she ended up at Ali's grave. The movie theater worker remembered seeing Maya get into Garrett's car the night she died, but weren't the charges against him already dismissed.

Hanna temporarily delayed A's plan to have Mona moved away, but that doesn't help Hanna avoid the blood test. And can we really trust Mona anyway?

Tags: Pretty Little Liars, Reviews
From Around the Web